MLS
With or without David Villa, NYCFC looks like an MLS powerhouse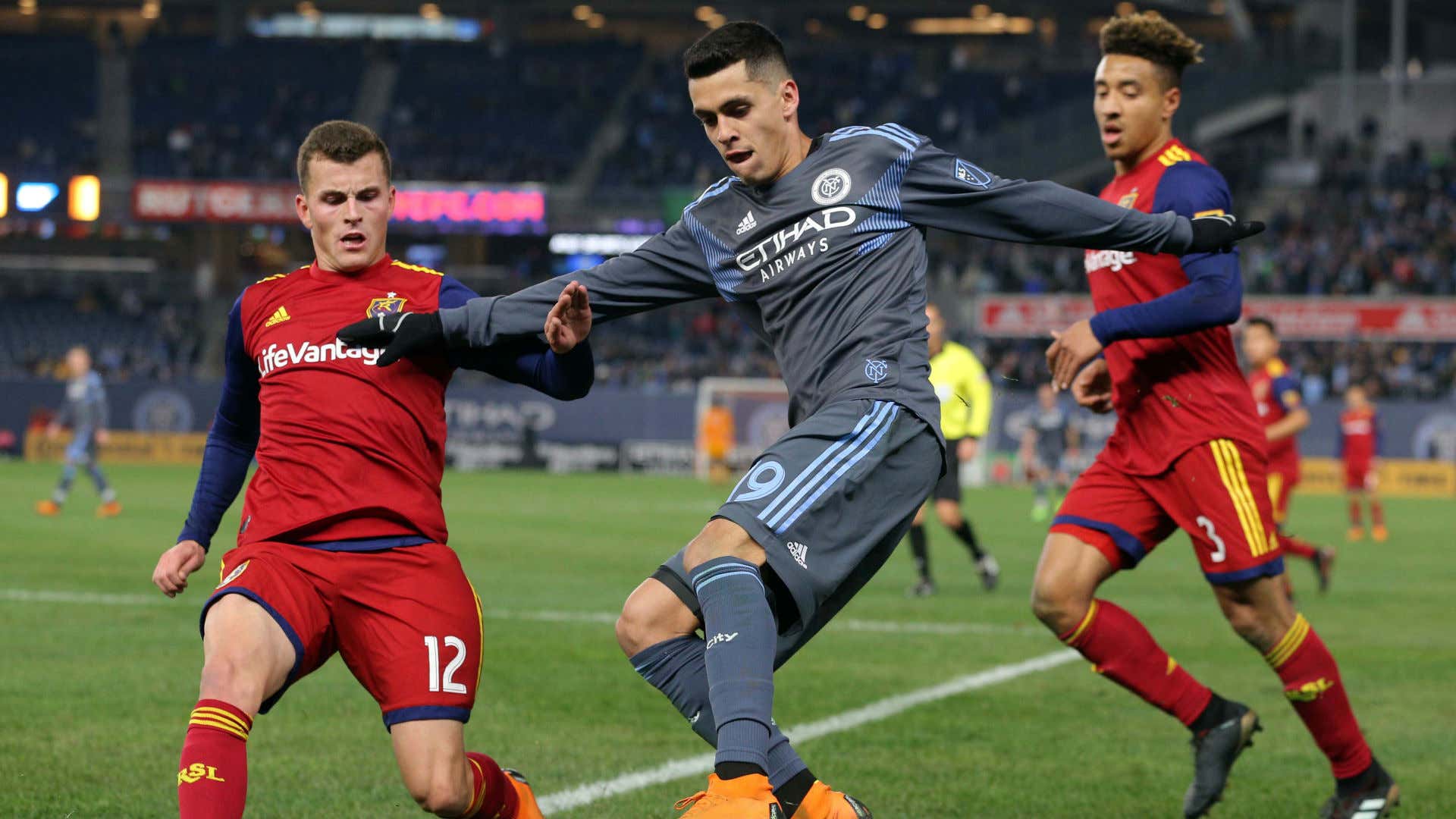 NEW YORK — There is no debating that Toronto FC is wearing the crown as the king of Major League Soccer between its MLS Cup title and recent run to the CONCACAF Champions League title. That said, it is looking more and more like New York City FC will be the biggest challenger to the throne.
Patrick Vielra's men thoroughly dismantled Real Salt Lake, with four different players scoring goals in a comprehensive 4-0 victory that maintained NYCFC's unbeaten record atop the league's overall standings.
David Villa began the night on the bench for the fourth straight match as he recovers from an injury, and NYCFC once again showed it can score goals without him, rattling off three goals before Villa took the field in the 59th minute for his first action in a month.
Wednesday's win was spearheaded once again by the attacking trio of Maxi Moralez, Jesus Medina and Ishmael Tajouri, who have thrived together in Villa's absence. They, along with back-up forward Jo Inge Berget, overwhelmed RSL's defense with sharp passing and well-timed runs, displaying a chemistry made all the more impressive by the fact Tajouri, Medina and Berget all joined NYCFC this past winter.
"We know how important David is, but at the same time we've played several games without him and we've earned some big results, and the players who have stepped in have shown a good level," Moralez said. "Obviously, having David back means a lot, but I think we're seeing with the new players who have played that they're very good.
"I think there is a roster that is very complete, that will make it very tough for the coach to select an 11."
Wednesday's match was a perfect showcase for the improvements NYCFC has made to its roster this past winter. Tajouri scored his fourth goal of the season, while Medina recorded two assists to bring his total to a league-leading five. Berget and midfielder Ebenezer Ofori added to the onslaught, each recording their first goals of the season, and the first in MLS for each player.
The performance left RSL coach Mike Petke in awe, though not really surprised.
"We played against a superior team. At their home. A team that Patrick (Vieira) built up phenomenally in three years," Petke said. "He's got a player in every position that's technically gifted. (in the) 89th minute - I don't know if it was Moralez, I think it was Moralez - 89th minute winning 4-0 and him sprinting 60 yards back, (putting) the work in. A team with the great mentality. A team that he built up that is technically superior at every position (to) most teams."
"For us, the name of the game is the collective unit," NYCFC goalkeeper Sean Johnson told Goal. "We know we have individual talent in the team, but the way we want to play, if one person isn't willing to work for the group it all goes upside down. It's forced us to really stick to our gameplan, and we're playing really good football as a group."
It is tough to find bench options who haven't stepped up and made the most of their opportunities for NYCFC over the course of the season's first month. At forward, Tajouri and Medina have been outstanding and Berget has impressed. In central midfield, Ofori has looked like a very good option behind Yangel Herrera and Alexander Ring. At left back, Ben Sweat beat out Ronald Matarrita to start the season and Matarrita has played very well since stepping back in for Sweat. At right back, Anton Tinnerholm has been stellar, but Saad Abdul Salaam has also looked good in his place. In central defense, Alex Callens and Maxime Chanot have formed a strong partnership, but newly-acquired Sebastien Ibeagha has not looked out of place when called upon.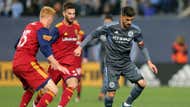 With Villa and Ring having returned from injuries, it leaves NYCFC's coach with some difficult decisions to make heading into Sunday's high-profile showdown with fellow Eastern Conference power Atlanta United.
"What will make my job really difficult for the next game will be to choose the starting 11," Vieira said. "It's going to be a tough decision that I will have to make, but I will always think about the team before thinking about individuals. When you look at the way that Ismael, Jesus, and even Jo work, David missed a few games, but he came on and worked really hard and this is what I expect from the players. Their job is to make it difficult for me to choose the starting 11. I have a decision to make and I will make it, but always putting the team first."
It is a safe bet that one of Vieira's decisions will be to re-insert Villa into the starting lineup on Sunday in Atlanta. He was very active during his 31-minute cameo on Wednesday night, though he did show some rust in missing on some scoring chances he would normally convert. Villa showed his trademark hustle and intelligence, and should soon be a major beneficiary of the good form the NYCFC attack is currently enjoying.
"Knowing that he can slot in now when we're actually playing really good football is great," Johnson said of Villa. "Having that confidence within the group is key, and he's going to come in and score goals, there's no question about it."
NYCFC will face its toughest test to date on Sunday against an Atlanta United team with a perfect home record that is also riding a four-match winning streak. A win at Mercedes Benz Stadium would send a big message to the rest of the league that NYCFC is a serious title contender.
As for how NYCFC might stack up against Toronto FC, that's not a question that matters all that much at the moment. The first of their two regular season meetings isn't until June 24, and the reality is NYCFC can't really begin to seriously challenge TFC's claim to being the league's best team until the playoffs.
"I think what they're doing is impressive. The run they've had, and the results they've had in Mexico. It sets a good benchmark for the higher caliber teams in this league," Johnson told Goal. "Having said that, we're confident in what we're doing here. We'll continue to chip away. It's early on, but just having that quiet confidence. We're not a group that's looking for the spotlight, or is going to spend a lot of time talking about how good we are. I think teams are starting to respect what we're doing here, and starting to see just what we're capable of."