Cristiano Ronaldo
Why does it always have to be about Cristiano Ronaldo?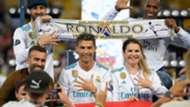 Cristiano Ronaldo always finds a way to be the centre of attention. Saturday night should have belonged to match-winner Gareth Bale and to a Real Madrid team that wrote its name in history with a third straight Champions League crown. But the Portuguese had other ideas.
The five-time Ballon d'Or winner did not score in Real's 3-1 win over Liverpool and was irritated when he advanced into the area in the 93rd minute, only to see the chance lost as a pitch invader ran on to interrupt the move.
The 33-year-old had not netted in either leg of the two semi-final games against Bayern Munich either, but he still finished as top scorer in the Champions League and lifted the trophy for a fifth time . It should have been a time for celebration.
But instead of rejoicing in his team's triumph and praising Bale's brilliance, Ronaldo made it all about himself. Asked if this project should continue with him at its forefront, he said: "In the next few days, I will give an answer to the fans, who have always been by my side. It has been really special to play for Real Madrid ."
It was not the time, nor the place. However, Ronaldo's remarks should come as no surprise. He has done this before. And back in the dressing room, his team-mates were not particularly pleased that the Portuguese had chosen such a moment to drop a bombshell about his future.
When told of his team-mate's interview, captain Sergio Ramos said : "He will have to clarify it today. He is a key player for us and nowhere else will he be better off than he is here."
Ramos later spoke to Cristiano about the matter and in the mixed zone, the Portuguese changed his tune . "Perhaps it wasn't the right time to bring up personal things," he said. "Maybe I made a mistake. Or not. It's not the right time; I don't want to detract from this top moment for the fans, who have always supported me and been by my side."
And he added: "I shouldn't have said what I did. It wasn't the right time because the club has made history and I don't want to take any merit away from what the team has achieved. It comes from some time back. I will talk in a few days. I shouldn't have said anything, but I don't regret it either."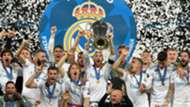 Overshadowed on the pitch by Bale , scorer of two goals including a wonderful overhead effort from just inside the box, Cristiano could have congratulated his much-maligned team-mate but instead guaranteed with one reply that all of the further questions would be about his future. And they were.
As soon as he had said in the past tense that "it was special to play for Real Madrid", the television and radio journalists were only interested in one thing: his future.
It ensured that the headlines all over the world will be talking not so much of Bale's brilliant strike, which was on a par with Ronaldo's overhead effort in Turin, or even Real's historic achievement, but of Ronaldo's bombshell after the match.
It was, as he himself said, not the time. But Cristiano is conscious of the power of his words and he knew exactly what he was doing in his post-match interview. And it was disrespectful to his team-mates, to the club and to the fans.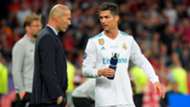 In any case, madridistas should not worry because Ronaldo is almost certainly going nowhere this summer. He has a long-term contract, with a buyout clause of €1 billion, which no club could or would pay for a 33-year-old.
"We always talk about him and then nothing happens," president Florentino Perez said after the match . "But I'm delighted that Cristiano has five European Cups like me. Ask him, he's going to stay, he has a contract."
Exactly. These latest remarks are nothing new, with Ronaldo having hinted on several occasions – including last summer – that he could leave Real. But his quotes on Saturday ensured that he was the story again – just as he likes it.
And as Real celebrate with the fans in the Madrid city centre, at the Bernabeu and the famous Cibeles fountain on Sunday, Cristiano's clever piece of PR has guaranteed a rousing reception, with the supporters set to call for him to stay. It is all a bit needy, really.