Premier League
WATCH: Mourinho walks out of interview after loss to Spurs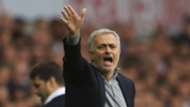 Jose Mourinho has made it no secret that Manchester United are fully focused on the Europa League final — and the Red Devils manager doubled down on that notion in abrasive fashion Sunday.
United finish below City once again
Mourinho walked out of an interview after United's 2-1 loss to Tottenham on Sunday, taking issue with a question looking ahead to the 2017-18 Premier League campaign.
WATCH: Jose Mourinho walks out of interview with Sky Sports' @GeoffShreeves : https://t.co/mh8tUFOg9I https://t.co/cUpgCZerJG

— Sky Football (@SkyFootball) May 14, 2017
The query that perturbed Mourinho came courtesy of Sky Sports ' Geoff Shreeves, who asked: "In terms of the Premier League, what do you think you need for next season to mount a serious challenge?"
Mourinho bristled at the question, responding: "I don't want to think about it in this moment — I want to think about the final I have to play."
And the manager promptly walked out without answering further questions, despite Shreeves' request for a follow-up.
The loss eliminated United from top-four contention, but the Red Devils can still qualify for next season's Champions League with a win over Ajax in the Europa League final May 24 in Stockholm.