Jürgen Klopp
VIDEO: Fan gatecrashes press conference to ask Klopp about...cake?!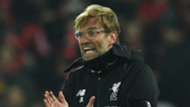 If you've ever wondered which type of cake Liverpool manager Jurgen Klopp likes most, you will be pleased to know that he has let the cat out of the bag. 
After topping Manchester City 4-3 in a thrilling Premier League clash that left Klopp's side third in the Premier League table and having closed the gap to previously unbeaten City to 16 points, the Reds boss was in a jovial mood. 
It's a good thing as well, because the line of questions in his post-match press conference got a little strange, with a fan gatecrashing to get in the long pondered question of just which kind of cake the Liverpool boss truly thinks is best. 
How bizarre!

Jurgen Klopp's post-match press conference was gatecrashed by one man who was really keen to know what the Liverpool manager's favourite cake is. #LFC pic.twitter.com/I4KsVcMNIv

— Goal (@goal) January 14, 2018
It was a bizarre moment in an otherwise brilliant day for the German, but it could lead to an abundance of cake being bought for the manager by Liverpool fans after Sunday's showing. 
Check out the surreal exchange above!