Videos
VIDEO: Crazy double tackle results in injury and red card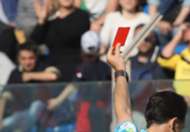 Tampines Rovers player Shakir Hamzah got more than he bargained for when he committed to a crazy tackle in his side's AFC cup clash against Ceres.
Both Hamzah and Ceres' Rodriguez refused to give an inch as they collided in a grisly double tackle, but the former undoubtedly came off the worse as he saw red and also had to be removed from the pitch on a stretcher.
Check out the amazing incident in the video above!