United States
USWNT's Concacaf final win represents first step toward World Cup victory in France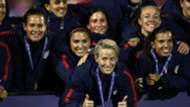 The United States' win over Canada was the fifth game the USWNT played in the Concacaf Women's Championship, but it was the first game looking toward France. 
The 2-0 victory, spurred by an early goal from Rose Lavelle and capped by a late goal from Alex Morgan, confirmed the reigning World Cup champion's regional supremacy. It also was the first match after clinching World Cup qualification. The U.S. is excited about adding another trophy to its case, but the goal when you're the reigning World Cup champion is not to simply win more trophies but to defend the World Cup crown.
"I think it for sure was the first step," winger Tobin Heath said after the match. "For us, it was an important step.
"We always like to win and any chance we get to play in a tournament where there is a champion at the end, it's important for us to be the champion, kind of getting that mentality and getting that confidence that this is our identity, this is our team."
This is a team that understands its identity well, and that identity solidified during the tournament. Canada was supposed to be the only test for Jill Ellis' team, and even Wednesday's final was only tough for a bit before Lavelle's second-minute opener took all the pressure off the tournament hosts.
Even so, head coach Jill Ellis used the same starting XI in four out of the five matches. She likes the options that she has and knows she has multiple places to turn should something go wrong. But beginning with this tournament, it's all about fine-tuning for the next eight months.
"I think it's getting better at what we do," Ellis said Wednesday night. "The Tournament of Nations was a really good test for us in how we want to play and against very diverse teams and how they play. I like the things we're doing, we just need to get better at it. I think the depth is there. It's continuing to evolve our game."
While the U.S. wasn't in danger of dropping the result to the Canadians, the response after Lavelle's goal wasn't the one that Ellis was looking for. The U.S. is accustomed to playing from ahead, but often is doing so against opposition it can run up the score on easily. Not so with Canada, nor with the teams the U.S. will see in the World Cup knockout stage.
A Star Is Born (2018)
🌹 @roselavelle 🌹 pic.twitter.com/GQTKONlbKz

— U.S. Soccer WNT (@ussoccer_wnt) October 18, 2018
"I think we got a little conservative in how we wanted to play, and I think that's part of our development and part of our evolution is, if you're up a goal, it's keep the pedal down, it's continue to push to the next one," Ellis said. "It's continued growth of the team. Sometimes an early goal can actually be to your detriment."
Those lessons need to be learned game after game, even when the film study and tactical breakdowns are made after a trophy celebration and a wave of euphoria from beating a rival in a final.
"It feels like a starting point in terms of where we want to be," Ellis said. "I think this was a good base, a good start to not concede a goal in the tournament. Canada made it hard at times for us tonight."
It doesn't get easier from here. The U.S. is expected to play a pair of friendly matches against European opposition next month to close out the year before continuing preparations in 2019 with more tough friendlies and tournaments ahead of show time in France 
"We have so many tests coming up leading up to the World Cup. We kind of know what team we want to be, and it's continuing to get better," Heath said. "I don't think it's difficult for this group to stay motivated at all because at the end of the day we're trying to win the World Cup. That's great motivation."
Perhaps that is the only motivation the U.S. needs to put everything into continuing to improve a team that's already looking great and make sure it can add the trophy it cares about most this summer.