United States
USWNT agrees to new five-year CBA with U.S. Soccer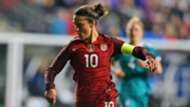 After more than a year of tense talks, the U.S. women's national team and U.S. Soccer have agreed to a new collective bargaining agreement.
Is Jones a must-start for the USA?
The players association and U.S. Soccer released a joint statement Wednesday announcing that the sides have ratified the new CBA through 2021.
The national team had been operating under the previous CBA, which expired at the end of 2016.
"We are pleased to announce that U.S. Soccer and the U.S. Women's National Team Players Association have ratified a new collective bargaining agreement which will continue to build the women's program in the U.S, grow the game of soccer worldwide, and improve the professional lives of players on and off the field," the joint statement said.
"We are proud of the hard work and commitment to thoughtful dialogue reflected through this process, and look forward to strengthening our partnership moving forward."
April 5, 2017
Five American stars — Megan Rapinoe, Carli Lloyd, Becky Sauerbrunn, Alex Morgan and Hope Solo — filed a complaint on behalf of the team with the Equal Employment Opportunity Commission in March 2016 that accused U.S. Soccer of wage discrimination.
U.S. players then mulled the idea of skipping last summer's Olympic Games before a federal court ruled in June that they could not legally go on strike. In the buildup to that tournament, the players embarked on an "Equal Play Equal Pay" campaign to raise awareness for their cause.
The players association parted ways with union counsel Rich Nichols in late December, with leaders from both sides noting a change in the tone of negotiations after that development.
The new agreement carries through the 2019 Women's World Cup in France — where the U.S. will look to defend its title — as well as the 2020 Olympics in Tokyo.