Atlético Madrid v Real Madrid
VIDEO: Trouble flares in the streets before Madrid derby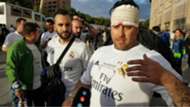 Tensions were running high before Wednesday's Madrid derby between Atletico and Real at the Vicente Calderon to such an extent that mounted police had to charge fans.
The visitors held the advantage prior to the Champions League semi-final second leg, courtesy of a 3-0 victory at the Bernabeu last week, but though the home side were faced with overwhelming odds before kick-off, their fans came into the game in bullish mood.
Although the Real fans arrived at the ground protected by the police, they were the targets of bottles, lighters and stones thrown at them by the home support. This led to several visiting fans suffering injuries and mounted police dispersing home supporters by charging their horses at them,
La policía ha tenido que cargar en los aledaños del Calderón. Mucha tensión en la previa.

⬇ Y algún compañero, preocupado por el piti pic.twitter.com/mse4tk3bbJ

— Alberto Piñero (@pineroalberto) May 10, 2017
Meanwhile, firecrackers and flares were let off in other areas around the ground.