The MLS Wrap: McCarty trade a case of ruthless pragmatism

Ives Galarcep
Jan 23, 2017 03:59 UTC +00:00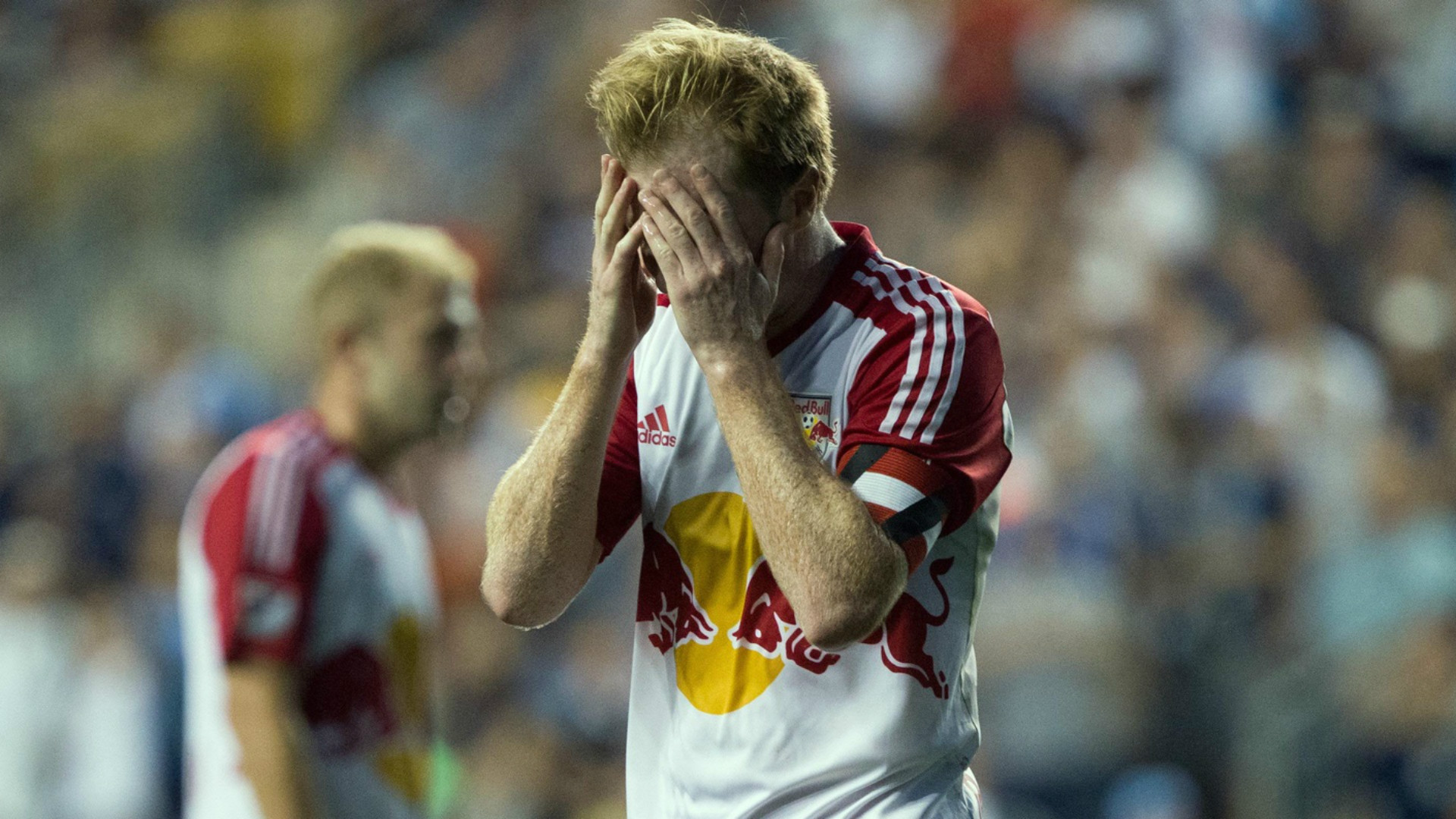 MANHATTAN BEACH, Calif. — Dax McCarty received a pair of surprise visits last week to the U.S. national team's training camp hotel. The first visit came on Monday morning, and it was a visit he never expected. New York Red Bulls coach Jesse Marsch showed up to visit McCarty. Not to congratulate him on his recent wedding, or the start of his first national team camp in three years, but rather to tell him he was being traded away from the team he served as an ideal captain for.
Two days later, Chicago Fire general manager Nelson Rodriguez and head coach Veljko Paunovic made the same trip here, to meet with McCarty and ensure him that while being traded away from the Red Bulls was stunning, he was joining a Fire team with big aspirations and a pivotal leadership role for him to play. The gesture was as warm as Marsch's visit was cold, but it did little to console McCarty, who was still understandably stunned several days later.
Gold Cup field nearly set after El Salvador tops Nicaragua
Trading a fan favorite is never easy, even when it makes plenty of sense from a practical standpoint. The Red Bulls have had the midfield trio of McCarty, Sacha Kljestan and Felipe Martins for both of Marsch's two seasons in charge of the Red Bulls, and while the trio was considered one of the best midfields in MLS, something needed to change. Not only because of disappointing playoff showings and a need to shake up the roster, but also because the Red Bulls have a pair of extremely talented midfield prospects waiting in the wings in Tyler Adams and Sean Davis.
If Marsch needed any more reminding of the importance of integrating young talent into his squad, he may have found inspiration during his recent trip overseas, when he spent time with Bundesliga upstart RB Leipzig, which has been one of Europe's biggest surprises on the strength of an impressive nucleus of talents younger than 23. In Adams, the Red Bulls have one of the most talented teenagers in MLS, a captain of the U.S. Under-20 national team who has already made headlines by scoring a pair of goals in a friendly against Chelsea. Then there is Davis, who did very well in 2016 as a spot starter.
The decision to trade McCarty may have been the seismic manuever that has shaken up the Red Bulls front office, with rumors swirling that sporting director Ali Curtis was on his way out. The Red Bulls denied those rumors, which surfaced last week, but the talk of Curtis' departure has continued to persist, on both the East and West coasts. The thought of Curtis leaving the Red Bulls would raise some serious questions considering his excellent reputation as one of the league's top personnel men, and would likely increase speculation that Curtis and Marsch had a falling out that couldn't be mended.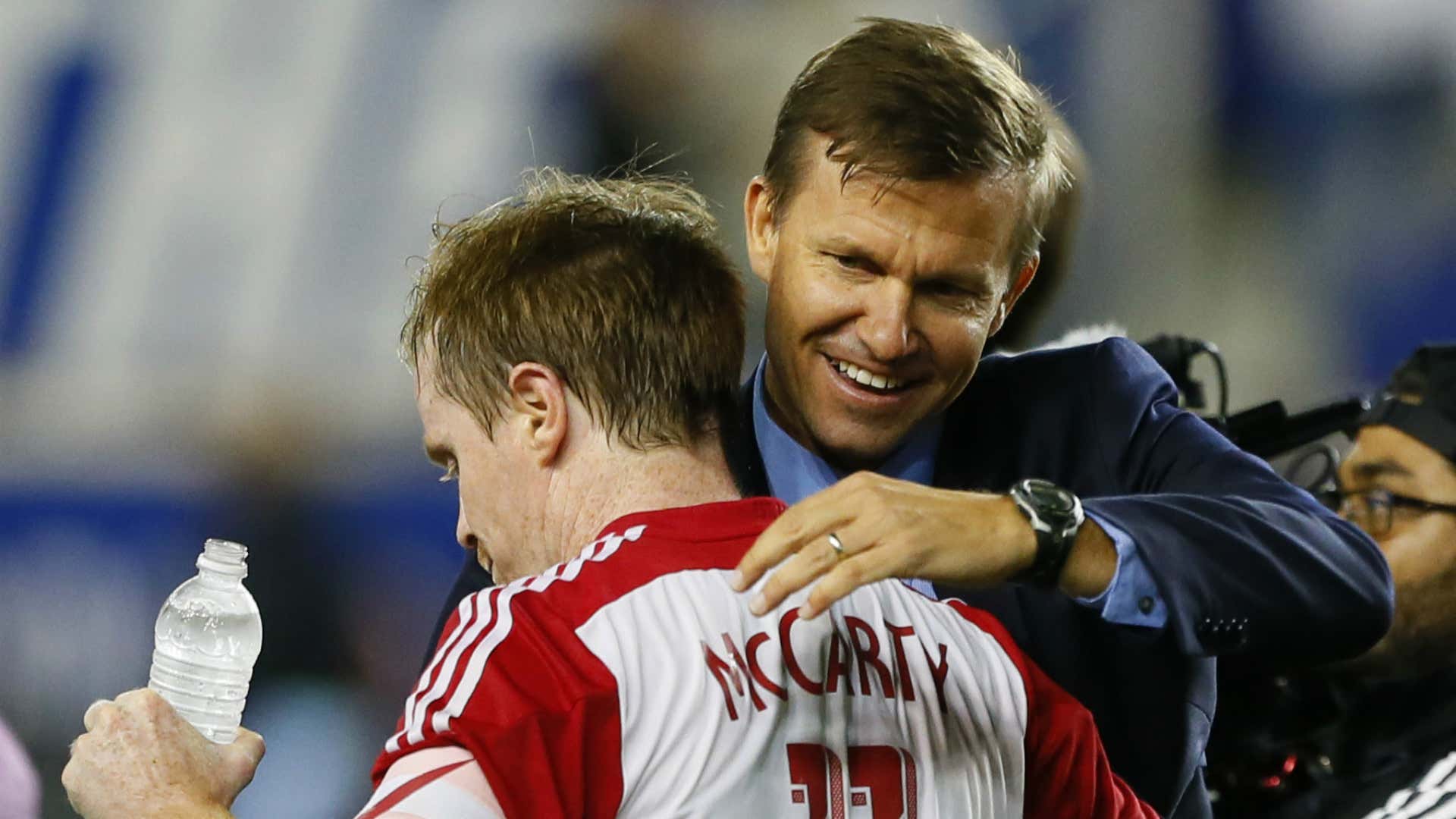 Sources tell Goal that the decision to trade McCarty was not a unanimous one among Red Bulls leadership, with Curtis preferring to trade Felipe instead of McCarty. Clearly, McCarty was going to fetch more on the open market than Martins, but trading McCarty would mean a much more signiicant hit in the locker room than dealing Martins would have. There was also the fact that Martins was a Marsch guy, having played for him in Montreal before Marsch acquired him via trade shortly after taking over the Red Bulls. Salary is another factor to consider—McCarty ($500,000 guaranteed compensation) made nearly twice what Martins ($280,000) made in 2016 — though that disparity apparently already had Martins asking for a new contract to close the gap.
Success in a salary cap league has a way of forcing such decisions, and if the Red Bulls were faced with the inevitable decision of dealing one of its midfielders, then McCarty made the most sense. That didn't make it any easier for McCarty to take considering he just signed a new contract a year ago, committing himself to the Red Bulls when he was just one year away from free agency and a potential move home to Orlando City. Marsch sold McCarty on being one of the pillars of a league powerhouse, and potentially retiring a Red Bull, but instead McCarty was sent packing just two days after his wedding, completely oblivious to the fact the Red Bulls had placed him on the open market.
That turn of events will be sure to anger Red Bulls fans who grew to love McCarty, not only for his stellar play in midfield, but for his leadership and connection with supporters. It's almost easy to forget that six years ago, when he first arrived, he came via a trade Red Bulls fans hated, with Dwayne DeRosario heading to D.C. United in the deal. At the time, that deal looked like it could wind up being an all-time worst trade — especially after DeRosario went on to win MLS MVP that season — but as McCarty packs his bags for Chicago he leaves the Red Bulls with a pair of Supporters' Shields and a six-year run that has turned that seemingly terrible trade into one of the best the club has ever made.
Perhaps sending McCarty to the Fire will work out in similar fashion. If Adams and Davis realize their potential, and the Red Bulls use the $400,000 in allocation money received for McCarty to bolster their defense and bench, then maybe Red Bulls fans will eventually come to accept that Marsch and the Red Bulls did what they had to do, even if it was always going to be a painful and ruthlessly pragmatic move.
---
SOURCES: RED BULLS TRADE ADAM NAJEM'S RIGHTS TO PHILADELPHIA UNION
---
The New York Red Bulls and Adam Najem couldn't come to an agreement on what level salary the Akron playmaker should join the Red Bulls at after a stellar four-year college career, and as a result, Najem won't be starting his career at the club whose academy he was developed in.
Instead, Najem will be starting his pro career as a member of the Philadelphia Union, with sources telling Goal that the Red Bulls have traded Najem's rights to the Union. The deal is expected to be announced on Monday.
One of college soccer's top playmakers, Najem was believed to be seeking a contract on the higher end of the rookie scale upon his arrival in MLS, with fellow college midfielders Jose Hernandez (Real Salt Lake) and Ian Harkes (D.C. United) signing deals worth $80,000 or more per season. The Red Bulls had other ideas, having offered Najem a minimum-salary deal ($51,500) after his junior season. The offer didn't improve this winter, leading to a standoff and ultimately a trade before the Red Bulls were to kick off training camp.
Najem joins a Union side that can use some creativity in midfield after the departure of Tranquillo Barnetta, but expecting a major role in the Union attack as a rookie might be an ambitious projection, even if Najem was widely-regarded as one of the best attacking midfielders in college soccer in 2016.
The Red Bulls aren't starving for young homegrown midfield options, what with Alex Muyl coming off an impressive rookie season in 2016, Tyler Adams and Sean Davis expected to take on larger roles in 2017, and with skillful Haitian national team midfielder Derrick Etienne Jr. also in the pipeline.