Germany
'So much hatred I had never felt before' - Toni Schumacher's life after Battiston clash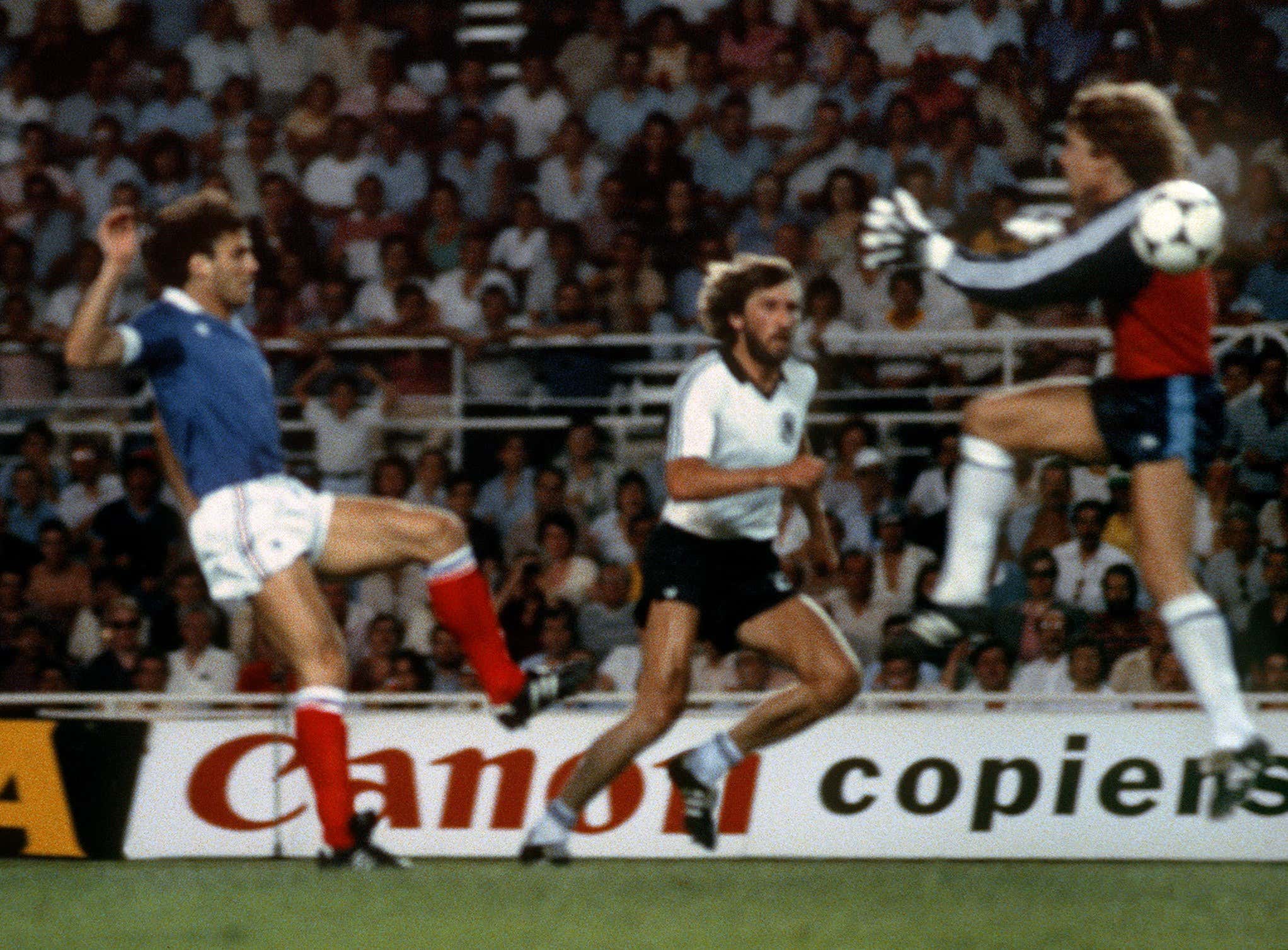 ---

COMMENT
---
Three broken teeth. Cracked ribs. Damaged vertebrae. Half an hour unconscious. Drifting in and out of a coma; injuries that are more likely to be apparent after a car crash. But this is a football match.
The World Cup semi-final. Seville, July 8, 1982. It's 1-1 between France and West Germany. Michel Platini lobs a pass through the centre of the German defence.
"The pitch was like a corridor and there was nobody in it," Patrick Battiston said in the book Twelve Yards. "Like the Champs Elysses at five o'clock in the morning." Battiston, on as a substitute less than 10 minutes earlier, gives chase to the ball. He nicks it ahead of the German defenders and the approaching goalkeeper who appears suddenly in his eye line. The shot is tentative. Off target. The television cameras and the referee's eyes follow the ball as it trickles wide.
Back on the pitch, a gruesome scene is unfolding. Battiston lies prone. His arm juts upward; his fist is clenched in an unnatural, disturbing way. The arm drops. Colleagues gather around quickly and put out an urgent call to the sidelines for help. There is concern for his health, his life.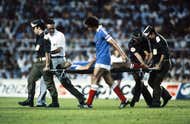 "He had no pulse," Platini said after. "He looked so pale." Seven minutes elapse before a stretcher materialises. The man is placed upon it and carried from the field of play. His arms are not folded across his chest. One flops downward beneath the stretcher, sickeningly betraying the horror of what just occurred. That limb bobs lifelessly. Platini, Battiston's captain, team-mate, friend, picks it up. He holds it, caresses it, kisses it.
Harald 'Toni' Schumacher stands taciturn in his area. The West Germany goalkeeper looks like he is growing impatient with the delay. His hands are on his hips and he has placed the ball at the edge of his small box. Pick him up and get him off the field so I can take my goal kick, his body language suggests.
Battiston made contact with the ball. Schumacher made contact with Battiston. As the France player was trying to ease up what had been a forceful run, to soften the impending contact, Schumacher was speeding up. He launched himself towards his opponent as the ball passed his left flank at the edge of the box. He flew through the air. He turned his hard hip and forearm towards the Frenchman's jaw and torso. He said later he didn't want to hit him with his knees. A glimmer of humanity.
Battiston's world was plunged into darkness and he hit the grass with a dull thud. Six months would pass before he recovered fully.
Referee Charles Corver missed the incident entirely. "Unfortunately I did not see the collision because I was following the ball which went just wide of the goal," he told L'Equipe in 2012. "I immediately asked if my assistant referee saw it and he told me that in his opinion, it was not intentional. Therefore, I could not do anything."
There was a bitter irony to the Dutchman's appointment. The French objected to the choice of the original designated official who had overseen their 3-1 defeat to England earlier in the tournament.
"You say Corver is an international referee?" France coach Michel Hidalgo asked afterwards. "I have my doubts if he risks the safety of players like that."
Goal kick. That was the outcome stemming from the most brutal act that ever took place on a World Cup pitch. No free kick. No red card. Not even a yellow.
"A profound injustice," squad member Alain Couriol told Metronews before France and Germany met at the 2014 World Cup quarter-finals. "We were convinced the referee would whistle for a foul. Then we saw the state Patrick was in and we were immediately very worried about his health. Is he going to get up? Is his life in danger? After this incident, the team was upset. We no longer thought about the match. We were not focused."
This was, perhaps, the greatest World Cup match of all time. A 3-3 draw after extra-time, it would be decided by penalty kicks. Schumacher saved two and West Germany earned a place in the final against Italy. The goalkeeper held his hand aloft to drink in the acclaim. It would never come. Only Germans wanted that result. Nobody else wanted them to win. That they reined in a 3-1 deficit in extra-time to level it up at 3-3 was commendable but what Schumacher did had rendered a team containing Karl-Heinz Rummenigge and Pierre Littbarski forever unlovable.
The shoot-out, the World Cup's first, was a new experience for everybody and the Germans survived it. But Schumacher was no hero. He was now a quintessential World Cup villain. In fact, villain is too sympathetic a term. It puts in the mind the notion of a pantomime bad-guy. It puts in mind a playfulness that was entirely absent in the intense Koln goalkeeper.
"I observed his behaviour, the way he clashed with Dominique Rocheteau and Didier Six," Battiston said to AFP. "I thought he was very hyped up, very excitable. I remarked on this to the other players on the bench."
Toni Schumacher extinguished a cigarette on his own arm to demonstrate to his first girlfriend that he was capable of conquering pain. After defeats, he went home and punched a red sandbag until his knuckles bled. Schumacher is a robust man.
That day, however, he was vulnerable. The enormity of what he had done was not lost on him. He has plenty of regrets about July 8, 1982. How he approached Battiston is not one of them.
"I did not want to hurt him but I would do the same thing again if the action were to recur," he told Le Figaro. "It was the only way to get the ball."
He knows he should have checked the well-being of a fellow man and shown some compassion. A mob of French had formed though and he thought better of getting too close. He knows he shouldn't have celebrated saving the penalties; a rush of adrenalin. He regrets telling the journalist who briefed him on the extent of Battiston's injuries that he would pay for the dental bills; never meant in any other context than the one in which it was delivered. And, finally, "I regret that the German delegation and myself didn't go to the hospital to get the news about Patrick Battiston," he said. He didn't act out of arrogance or remorselessness. He was scared. "Secretly, I feared Battiston was seriously injured, possibly lying in a coma," he admitted.
Schumacher was deplored for his reaction as much as the challenge itself. But his outward shows of cock-sure defiance obscured his fear. "Maybe he did feel guilty, one can draw all sorts of conclusions as to what he did feel. All I know is that Schumacher was someone who wanted to win at all costs and he went way over the top that evening," Battiston said.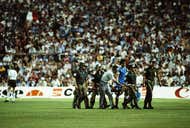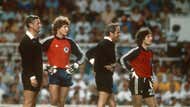 The fuse burned slowly. In the aftermath of the game the press focused on the outcome of what had been a brilliant, thrilling match. Hidalgo was praised for loading his team with attackers and having a proper go.
It was not until the days following the match that the collision became the main talking point. What was left in the wake of Schumacher's assault on Battiston was an explosive eruption of rage and acrimony. "SS", they called him. He was portrayed as a pathological brute. Anti-German sentiment was stoked in France. Schumacher beat Adolf Hitler in a newspaper poll of France's biggest enemies. Chancellor Helmut Schmidt was compelled to send a telegram to President Francois Mitterrand. Together they issued a joint statement in an attempt to ease tensions.
"I could not understand the scope of it," the goalkeeper said. "I was a totally apolitical person, but suddenly I was responsible for anti-German resentment flaring up in France. It sounded like I was going to trigger the next war. So much hatred I had never felt before."
Battiston's friend arranged a get-together shortly afterwards in Metz so the goalkeeper could apologise for what he had done. It was the day before Battiston's wedding. Schumacher was armed with a gift and an apology.
There would be no private, face-to-face meeting though. Schumacher was plonked in front of the French press - ambushed - and he didn't like it. "They took me into a room," he said. "When I opened the door, there were a lot of journalists. I was not expecting that. I apologised. But I was not happy with the way the meeting was organised. It showed on my face." The visit was a washout.
Before West Germany played in France in a friendly in April 1984 the team bus made its way to the stadium. Schumacher was listening to a song called "Revenge" by Peter Maffay. "Strike me dead because only then can you be sure I won't defend myself," go the lyrics.
"When I entered the stadium in Strasbourg for our first international match against France after the World Cup, I saw myself as a life-size doll dangling on the gallows," he said. "The pitch was fenced and secured by police with batons. Otherwise the French would have torn me apart. Everywhere there were banners with swastikas and slogans like 'Nazi'.
"Eggs, potatoes, apples, tomatoes, stones - they threw everything at me. They whistled and raged whenever I had the ball, but they could not make me feel small."
His mother used to tell him that when he conceded a goal he should get up immediately to convey assurance. If he was scared he didn't show it. Just like July 8, 1982.
"I knew what I had to do," he said. "If I did not stand up to this pressure, my international career was over. I was fully concentrated and had prepared myself by autogenic training."
He rushes out and meets a shot from a French winger. He holds the ball tightly as it comes from long-range. A header flashes by his face and he snatches the ball. Didier Six tries to beat him from distance but he tips it over. Late, he succumbs. Six reaches the byline and puts the ball in the box. Bernard Genghini gets something on it and it trickles inside the near post. But Toni Schumacher won't be punching the sandbags tonight.
"France won 1-0 but I put in a strong performance," he said. "As the game progressed more and more of the crowd applauded me." Things cooled down. Schumacher had a bit of redemption. "I swapped jerseys with Battiston," he said. "But in the dressing room, not on the pitch."
Thirty-four years have passed since the Tragedy of Seville. Of the current France squad, only Patrice Evra was even born when it occurred. France coach Didier Deschamps didn't use such a remote incident as a means of inspiration before the World Cup quarter-final two years ago. This is a new French generation. It wouldn't have made sense. "I have forgiven [him]," Battiston said in 2012. "Over time, I realise that people have forever marked him with this. But now it's finished."
Schumacher believes in heaven and says it must be better than the here and now. He was ostracised by the German football fraternity in 1987 after his autobiography detailed what he claimed were widespread doping practices in German football. In 1982, Italy were the champions after beating the West Germans and their detested goalkeeper in the final. That's how the world wanted it. In 1986 Schumacher could not quell Diego Maradona and Argentina as they lost it again in Mexico. There was no place for him in the 1990 West Germany World Cup squad. They won.
Schumacher's World Cup story is two failed finals and that stance. The World Cup semi-final. Seville, July 8, 1982. Hands on hips, waiting to take his goal kick. Remorseless? Scared?
Goal journalists are powered by the Samsung Galaxy S7 and Gear 360