Eredivisie
Real Madrid's Odegaard plays down hype after Heerenveen debut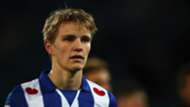 On-loan Real Madrid teenager Martin Odegaard has admitted he tries to avoid the attention surrounding his prodigious talent after making his debut for Heerenveen.
The 18-year-old came off the bench with three minutes remaining, but touched the ball just once in the 2-0 win over ADO Den Haag.
The Messi goalscoring stat that will make Ronaldo jealous
A double from Iranian striker Reza Ghoochannejhad helps keep Heerenveen in fourth place in the Eredivisie, and Odegaard is delighted his first game with the club was a winning one.
"It was very nice to get my first minutes here in this great stadium," the Norway international told Fox Sports.
"We started with a win so it was perfect. It has been a very nice week and a very special week because everything is new and I have to adapt to everything. It's been good and I'm enjoying it here."
Since becoming Real Madrid and Norway's youngest ever senior player, Odegaard has received plenty of attention from fans and media.
However, the attacking midfielder would prefer to avoid any hype surrounding him, and instead wants to concentrate on putting in good performances for his new club.
"I try not to focus so much about what others think about me. Just do my thing and play football," Odegaard continued.
"I'm a player who like to do things with the ball. I like to create chances for the team.
Simeone aims Ballon d'Or jibe at Ronaldo
"When you are on the bench, you always hoping to get on the pitch. Especially the first time like this.
"I've only been here a few days so it was normal that I played few minutes."