Liga MX
Pumas move past Tigres with CU finally feeling like home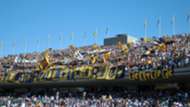 The fans actually packed into the Estadio Olímpico de Universitario at the Ciudad Universitaria, or CU, on Sunday. While the supporters were hoping to see the better-seeded Pumas top Tigres and move into the semifinals, it seemed like long odds.
Tigres had been on a roll. They won the first leg, 2-1. And the series was headed back to the CU where Pumas had only been able to win twice this season. They needed a win to keep the season going. Many fans feared the worst.
Instead, they were rewarded with a 3-1 victory for the home side, good enough for a 4-3 aggregate triumph and a ticket to the semifinals. Pumas will play on.
They'll also get another home game, likely in front of more than 40,000 fans once again. Attendance has not been a strength for the club, which plays its home matches at noon on Sunday. An average of 24,534 people turned up for the club's home matches this season, just more than half of the stadium's listed capacity for soccer matches.
It's difficult to divine the exact correlation between fans in the stands and results on the field. Pumas' home match against fellow Mexico City side Cruz Azul drew 42,717 fans in Jornada 15, and fans saw La Maquina top Pumas, 2-1. But you can't help but wonder if a tepid atmosphere is part of the reason why Pumas were so poor at home this season. Before Sunday's triumph, they'd beaten only Necaxa, in now-fired manager Marcelo Michael Leano's first-ever game as Liga MX manager, and Lobos BUAP, which was in the midst of five-match losing streak, at home this season.
Pumas compensated for the issues at home by being the best team in the league on the road. They'd won away from home six times and lost just once, setting off the alarms when they were unable to replicate those sorts of showings in the first leg at El Volcan.
Instead, David Patino's side was able to outwit and outperform a Tigres team that spends more money and has grown accustomed to more fervent support. The first half of the contest reflected just how much was on the line for the two sides. Liga MX rules have away goals as the first tiebreaker but better regular-season finish as the second. A goal for Pumas would put the Mexico City side in a position to advance. Two for Tigres would give them an almost insurmountable edge.
The one came for Pumas in a second half that opened up considerably from the opening 45 minutes. Carlos Gonzalez, who scored a hat trick in the teams' regular season meeting, applied a powerful header to a set piece from Ignacio Malcorra, to nose Pumas in front in the 52nd minute.
They'd be on the back foot again three minutes later, with Rafael Carioca's shot smashing against the crossbar, then Pumas goalkeeper Alfredo Salvidar's outstretched body and slowly rolling across the line.
But as the crowd shouted out their "Goya" cheer and other exhortations for Pumas, Patino's men kept pushing to retake the advantage. Tigres weren't strong enough out wide, and Pumas were able to get down the flanks and put in service. After a failed attempt from the right side of their attack, Malcorra put a cross in from the left side for Felipe Mora, who had to beat only the goalkeeper for his series-winner.
¡GOOOOOOOOOOOOL GOOOOOOOOOOOL! 👊🏻👊🏻

Felipe Mora le regresa la ventaja a los @PumasMX y el partido está que arde🔥🔥

🔥@PumasMX (3) 2 🆚 1 (3) @TigresOficial 🔥 #UDLiguilla #UDN pic.twitter.com/aEj8th1N7l

— Univision Deportes (@UnivisionSports) December 2, 2018
The old grande, with a stadium full of fans who made it feel like Pumas are still one of the country's most important team, beat the upstart. Tigres' run has ended early this year after it won the last three Apertura tournaments. If Pumas are going to lift the title, they'll have to end a few other streaks and take down teams with more recent success then they've had. After Sunday, they know their supporters will be backing them the whole way.