Premier League
Pogba's 24 best Instagram posts on his 24th birthday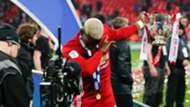 It has been a roller coaster 12 months for Paul Pogba since his last birthday, but as he celebrates turning 24 on Wednesday he can look back over a life-changing year thanks to his prolific use of Instagram.
Pogba has become a social media king over the last 12 months as his world-record move from Juventus to Manchester United and France's run to the Euro 2016 final helped to blast him into the globe's greater consciousness.
While his return to Old Trafford hasn't all been smooth sailing, he now boasts in excess of 13 million Instagram followers thanks to his various chronicles on the platform.
So to mark his 24th birthday, Goal looks at 24 of his more memorable posts of the past year.
---
1. WHAT A BEAUTIFUL BABY!
---
This time last year Pogba was celebrating his 23rd birthday by posting a snap of himself as a baby. Does he look like a footballer in the making here?!
---
2. EVERYONE LOVES A FILTER
---
Pogba might have the world at his feet, but he's no different to the rest of us really... he too is easily tickled by an animal filter.
---
3. HEY THERE, TIGER
---
As attention built around his impending transfer, this wasn't a come-and-get-me plea to Hull City but instead a timely reminder of the world's responsibility towards precious animals everywhere.
---
4. UNBRIDLED JOY
---
At a time when many accuse footballers of caring more about money or image than winning, there is nothing like the raw satisfaction of claiming a league title to prove that it's all about the winning.
---
5. HE GOT GAME
---
Not only is he one of football's leading lights, but he's head and shoulders above the rest in Bedroom Basketball...
---
6. SCUDETTO NUMBER FOUR
---
In four years with Juventus he won four Scudetti, and this fans-eye-view of their trophy lift shows Pogba was ready to celebrate like any Bianconero!
---
7. UNCLE PAT'S CUP FINAL RAP
---
It's no Anfield Rap, this one. Patrice Evra leads Pogba and Mario Lemina in a special celebration after Juve add the Coppa Italia to their league title triumph.
---
8. MMA-READY
---
After leading France to the Euro 2016 final, attention turned to Pogba's impending move to Manchester United. His holidays in the USA involved plenty of chances to stay fit and new boss Jose Mourinho would later comment that his activities had helped to keep him in shape for a fast start with the Red Devils.
---
9. A HEARTFELT FAREWELL
---
When the time came to say goodbye to Juventus, Pogba said it in style. He insisted the club would "always be in my heart" and acknowledged just how much he had grown during his four years in Turin.
---
10. #POGBACK
---
In probably the most-anticipated social media post of the summer, Pogba announced his return to Manchester United with a new hashtag and a new haircut. The £89.5m man was officially back at Old Trafford.
---
11. THOR!
---
Before they'd even stepped foot on a field together in the United shirt, Pogba gave a glimpse of the burgeoning relationship to come between he and Zlatan Ibrahimovic. He even gave the big Swede a nickname he will do well to shake off.
---
12. DEBUT WITH THOMMY
---
In one of many acts of incredible kindness, Pogba reserved a spot alongside him for Thommy Tino when stepping out for his Old Trafford bow. He saw the youngster as the perfect representative of Juve fans who remained in his heart through his new adventure.
---
13. THE LOVE OF A MOTHER
---
One regular feature of Pogba's posts has been his love for his family, and mum Yeo is with him every step of the way. He shared some wonderful memories of her throughout the years when celebrating her birthday in August.
---
14. PATRICE THE PANDA
---
If there is one megastar other than Pogba in his Instagram posts, that man is definitely Evra. Uncle Pat's unique way to speak up against racism was one of the most memorable moments in football of the past 12 months!
---
15. LET'S GET IT ON!
---
Beneath the panda custome resides one of Pogba's greatest sidekicks. During the international break in November the pair were captured delivering their best Marvin Gaye impressions.
---
16. DON'T WATCH, JUST DANCE
---
Pogba's homage to old friend Juan Cuadrado revealed a couple of things about the former Juve team-mates. First, they are both as gifted on the makeshift dancefloor as they are on a football field. And second, they were about as enamoured with Manchester United's Europa League display against Liverpool under Louis van Gaal as the majority of supporters!
---
17. HASHTAG HAIR
---
With a new hashtag came another new haircut. There have been many new styles demonstrated by Pogba on his Instagram page over the past 12 months, but this was perhaps most memorable as he mirrored his new Twitter emoji with a logo hairdo.
---
18. UNCLE PAT STRIKES BACK
---
Pogba marked news of Evra's move to Marseille with a video of everyone's favourite panda in a new light. Uncle Pat never fails to entertain...
---
19. RIO'S NO-NO
---
Rio Ferdinand initially took exception to this video of Pogba and his old friend Jesse Lingard practising a new celebration in the Carrington dressing room. It took a conversation between Pogba and the ex-defender to calm the waters.
---
20. UNITED AND SAM
---
One glance at Pogba's Instagram account shows just how much he does to make the most of football in the wider community, and one particularly brilliant example was his recent visit from Sam as part of the Manchester United Foundation's work. The youngster couldn't have been more thrilled to meet United stars Pogba and Ibrahimovic.
---
21. POGBANCE
---
Mix together Pogba's three great loves - football, family and dancing - and what do you get? A Pogbance...
A post shared by Paul Labile Pogba (@paulpogba) on Feb 16, 2017 at 3:38pm PST
---
22. BROTHERHOOD
---
The Europa League round of 32 tie between United and Saint-Etienne was dominated by the Pogba v Pogba showdown. Paul's meeting with brother Florentin ended in United's favour, but the brothers both enjoyed the experience of sharing a field for the first time as professionals.
---
23. THE EFL DAB
---
There might never have been anything more quintessentially Pogba than a dab celebration with the EFL Cup in tow after February's 3-2 win over Southampton at Wembley.
---
24. WE'VE GOT OUR TROPHY BACK
---
United's EFL Cup win was celebrated heartily in the victors' dressing room. This was one occasion when smiling and dancing in the changing room was not frowned upon! Again, it was football stripped back to its raw joy.