UEFA Europa League
'Glorious!' - Podolski praises Cologne support at Emirates Stadium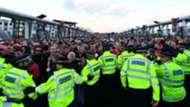 Lukas Podolski has hailed Cologne's passionate support at the Emirates Stadium, despite thousands of the visiting club's fans unlawfully gaining entry to watch the match.
Gunners 16/5 to win at Chelsea
The game between Arsenal and the Bundesliga side had to be postponed by an hour as reports surfaced that around 20,000 visiting supporters were in north London, with many of them attempting to gain entry to the stadium.
Wegen 50 Leuten wird alles schlecht gemacht. Lächerlich ! Die Stimmung im Stadion war geil

— Lukas-Podolski.com (@Podolski10) September 15, 2017
Köln braucht sich nicht verstecken oder zu schämen das war eine geile Stimmung mehr als Champions League !!! #effzeh #Köln

— Lukas-Podolski.com (@Podolski10) September 15, 2017
The Gunners would go on to win the game 3-1, with goals from Sead Kolasinac, Alexis Sanchez and Hector Bellerin ensuring Arsene Wenger's men came from behind to claim all three points.
And despite the delay to kick-off and Arsenal since admitting they will undergo an investigation into what happened, Podolski saw no problem with the actions of the away supporters.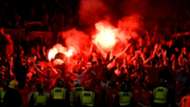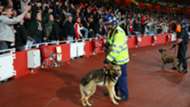 Podolski, a former player for both sides, posted on his Twitter account: "Because of 50 people everything gets pulled into the mud. Ridiculous! The atmosphere inside the stadium was thrilling. 
"Koln does not have to hide or be ashamed. That was glorious support. More than in the Champions League."
A police statement, meanwhile, confirmed that five arrests had been made. It read: "No reports of any significant incidents. Five people have been arrested on suspicion of public order offences.
"The game has now concluded and the majority of supporters have left the stadium and the surrounding area."