Chelsea
Chelsea youngster Aina hails Terry & backs him to be a success at Aston Villa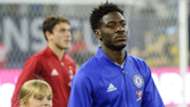 Ola Aina has offered his gratitude to John Terry for helping aid his development, as he spends time on loan at Torino from Chelsea during the 2018-19 campaign.
Terry has recently retired from football despite a host of offers from clubs across Europe, and is beginning his coaching career as the assistant manager to the newly-appointed Dean Smith at Aston Villa.
Having become known for his leadership as Chelsea's most successful ever captain, Terry has been lauded by Aina for the support that he has offered him in his early career.
The Nigeria international believes the club legend, who is often spotted at Chelsea's Cobham Training Ground working with the youth players, has gone the extra mile to help him and his colleagues.
"Of course, he was always a leader," Aina told Goal. "He didn't have to reach out to us young ones all the time as he has his own things going on but he does it anyway. That's what we can really thank him for and what's really nice about him.
"I was 15 and it was my first time training with the first team and he was very welcoming and friendly. I thought it would be a thing where he is a fellow defender and not really chat to us but he was really good and throughout the time I spent with him, he has been top notch. He is a top guy.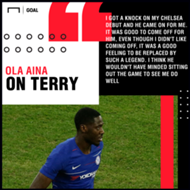 "I remember when I got a little knock in the game on my Chelsea debut and he came on for me. It was good to come off for him, even though I didn't like coming off, it was a good feeling to be replaced by such a legend.
"I think he wouldn't have minded sitting out the game to see me do well, but he is a professional and he was ready to do his job. It was surreal just to come off for him. I think he will develop defenders wherever he is. I think all Villa's defenders will learn a lot from him, especially the centre backs.
"I think he will bring a different type of knowledge because he has done it at every level; on the European stage, international stage and in the Premier League for so many years. Villa are really lucky to have him, especially their defenders.
"My time has been spent playing with him at Chelsea and against him at Villa. With the young ones he was always good, he would text us every now and again. He would give us advice and just watching him on the pitch helped. Just playing with him and then training with him every day.
"That was more how I got the knowledge that he gave to me. It might not be verbally all the time but just watching him on the pitch and how he was. Even off the pitch watching him helped me as a young defender."
Aina, who has won seven caps for Nigeria, has made eight appearances in Serie A this season.