Manchester United
'Mourinho and Guardiola are very similar' - Contrasting styles but same obsession, says Gudjohnsen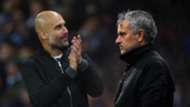 Jose Mourinho and Pep Guardiola may be drawing contrasting responses to their respective styles in Manchester with United and City but the pair are actually "very similar", says Eidur Gudjohnsen.
Roles for two arch-rivals were reversed in 2017-18, with those at Old Trafford forced to watch on as major silverware made its way to the Etihad Stadium.
A year earlier, Mourinho's debut campaign earned him three trophies while Guardiola was left empty-handed.
City are now Premier League and Carabao Cup double winners, with the Blues being lauded for their free-flowing football while United are condemned for adopting a supposed defensive mindset.
Mourinho and Guardiola are the faces of the clubs placing so much trust in them, and a man who played under both in his playing days believes they have more in common than may meet the eye.
Former Chelsea and Barcelona star Gudjohnsen told The Independent: "I always say the same: they're very similar in their eye for detail, in their obsession in how the game should be played.
"I think Guardiola puts more emphasis on possession of the ball and how can we dominate the opposition in possession and overload spaces where the ball is being played. 
"Mourinho is a little more direct, and this is from my experience. Both [are] at a standard which is very similar, it's just who do you like more.
"The biggest difference is the characters. Mourinho has got a bigger personality, a bigger character than Guardiola. Guardiola might be more of the silent type, thinking, an introvert."
Gudjohnsen does not envy either of his former bosses as they continue to chase down honours in an era which demands immediate success.
Both have been able to deliver for expectant fan bases, but the challenges start all over again in 2018-19 as Mourinho and Guardiola look to assert dominance not only in Manchester but throughout England and across Europe.
"If you look at the demands of football today, everything has to happen straight away," added the iconic former Iceland international who tasted title success in England and Spain, as well as Champions League glory with Barca.
"We want teams to play well, we want success, we want everything. We want almost perfection.
"And we want new players to come in and set the world on fire, entertain us and just be the complete package as soon as they walk through the door."