Manchester United
Lukaku credits Carrick with aiding Man Utd learning curve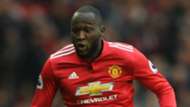 Romelu Lukaku has credited Michael Carrick with helping him to thrive at Manchester United following a £75 million ($101m) transfer.
With the Red Devils having invested considerable faith and funds in the Belgium international, much was expected of him upon his arrival at Old Trafford in the summer of 2017.
Lukaku was able to hit the ground running and, despite enduring the odd wobble, ended his debut campaign with 27 goals across all competitions.
His hard work on the training ground was rewarded with a regular role under Jose Mourinho, but the 25-year-old has been quick to recognise the role a long-serving team-mate played in his development.
Lukaku told MUTV of Carrick's crucial assistance: "Michael, I want to say a big thank you for what you've done for me since January.
"I mean, not a lot of people will know that now we do video sessions after every single game to prepare for the next game and, like I've said, sometimes you think those video sessions don't help me going forward. But they do because I became a better player and I became a better version of myself.
"I think it also starts in training when we do the extra bits and the extra exercises to become a better player. Your eye for detail really helped me a lot more. I've had a lot of mentors in my young career and you're certainly one of them."
Lukaku will get the chance to work with Carrick again in 2018-19, with a former England international having hung up his boots and slipped into a coaching role at Old Trafford.
"It will be a joy to work with you in the staff next season," added a man currently setting his sights on more goals with Belgium at the World Cup finals in Russia.
"Hopefully, I can improve on the bits and pieces that you want me to improve on.
"Good luck after your career and I hope to see you in preseason so we can start a new chapter in the work that we do."