Primera División
Kaka: My favourite young player is Barcelona star Neymar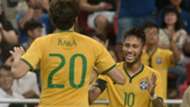 ---
EXCLUSIVE
---
Former Real Madrid star Kaka has revealed his favourite young player in football is fellow Brazil star and Barcelona forward Neymar.
The Brazilian proclaimed this week that it had been his best season yet as a Camp Nou player, although Champions League success eluded Barcelona and they're underdogs to finish above Real Madrid in La Liga with one game to go.
Robben stars in Bundesliga Team of the Season
Despite another solid season at Barcelona, it would remain a shock if he toppled Lionel Messi or Cristiano Ronaldo for any player of the season awards, but Kaka, who now plays with Orlando City in Major League Soccer, has nothing but love for compatriot Neymar.
"I would say Neymar is my favourite young player," Kaka told Goal. "I love the way that he plays.
"He makes everything so easy and he's enjoying playing with Barcelona."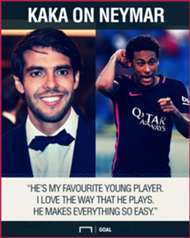 Neymar has also been key in helping Brazil secure qualification for the 2018 World Cup and, though he is 35 now and hasn't been called up in a year, Kaka hasn't ruled out a potential return to the Selecao.
"Brazil are doing very good. Now [head coach] Tite has put the national team on the right track," Kaka said. "They're playing very good. They've qualified for the next World Cup and Brazil will probably be one of the favorites for the next World Cup.
"About my time with the national team, really I don't know," he continued. "I just think about [Orlando City] and if I think I'm playing good here, consistently every game doing good, maybe. If the national team coach thinks I can help in some way the national team, I'll be ready to play for Brazil.
"It's not a thing I think about every day. I'm focused here, but if I have a chance in the future to be back I'll be glad to be back to the national team."


Neymar leads a generation of young talent that has Brazil loaded with talented options like Philippe Coutinho, Willian and Rafinha, among others that have made older players like Kaka obsolete, something the former Milan superstar is fully aware of.
How eSports & FIFA 17 conquered football
"I think it's natural," Kaka said. "When the coach thinks I'm not part of the group and he doesn't count on me anymore, it probably shows me as well. I think that needs to be good for both sides. If it's good for me to go to the national team and play there, not just go there to give experience, but to play and be useful, I think it's good.
"And for them, if they think that I can help them in both ways it's good as well."
Kaka could be back in action in MLS on Sunday when Orlando City host New York City, with kick-off at 7pm East Coast time.