Mexico
How will Mexico line up against Wales?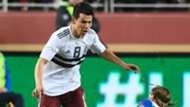 UPDATE: Chicharito, Tecatito leading the line against Wales
Let the preparation continue. Mexico's match Monday against Wales is the first of three friendly matches to help El Tri get ready for the World Cup in Russia. Really, Mexico has been preparing for the World Cup since September when it clinched qualification, or maybe even before that. The official build-up games, however, start now.
Mexico's defense is a bit thin heading into the contest, creating an opportunity for a player like America's Edson Alvarez to slot into the starting XI and perhaps make enough of an impact that he ends up in Russia.
Diego Reyes and Hector Moreno are coming off injuries, as is Andres Guardado, and won't play. Carlos Salcedo and Marco Fabian both were in training Monday, but only recently finished their Eintracht Frankfurt season. Giovani dos Santos and Jonathan dos Santos also trained after playing Friday with the LA Galaxy.
Miguel Layun and Alfredo Talavera are yet to join up with the team, while Rafa Marquez could not travel to the match because of visa issues.
As Goal does before each Mexico match, we've looked at three potential starting XIs for El TrI:
---
Standard 4-3-3
---

The 4-3-3 has been Osorio's preferred formation during his tenure, and he has the players to make it work Monday. This would see a back four of Edson Alvarez and Jesus Gallardo getting minutes on the outside with left-footed center-back Oswaldo Alanis on the left and Hugo Ayala on the right.
It also sees Monterrey midfielder Jesus Molina in the middle, where he would be tasked with breaking up attacks from Wales' Aaron Ramsey and Harry Wilson. Mexico didn't take a true defensive midfielder to the Confederations Cup, but Molina's inclusion on the preliminary roster hints that Osorio may change that this time around.
Up front, I've gone with Hirving Lozano on the right and Jesus 'Tecatito' Corona on the left with Javier 'Chicharito' Hernandez in the middle. It's the strongest group Mexico has at the moment, and Chicharito and Corona could use rhythm after seeing only sporadic minutes in the European season. Lozano is on the right with Corona on the left after seeing how they played in Sunday's training session, but they'll likely switch during the match and could start on the opposite sides.
---
Trying three at the back
---

This alignment would get Jurgen Damm into the starting lineup. The Tigres winger seems like a long shot but does have experience playing in a role that requires him to track back defensively and his speed is something Osorio has enjoyed exploiting off the bench.
At the back, Gallardo simply moves up to play in a position more similar to the one he plays at Tigres, while Alvarez slots into the right center-back position.
Erick Gutierrez was called in as potential injury cover for Andres Guardado, who Mexico is optimistic will be at 100 per cent ahead of the World Cup. Even so, he may get a look Monday night, especially in a role where he's asked both to get forward and help with defending.
---
Really going for it
---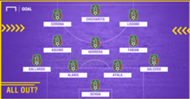 If Osorio wanted to, and I don't think he does, he could put what essentially is his best possible XI on the field and have them go out to beat Wales. Preparation for the World Cup is more important, and this game should be a chance for some of the fringe players to attempt to win spots 21 or 22 on the plane. 
Osorio did hope to have his final 23 ready by this point, though, so perhaps he'd inset Eintracht Frankfurt duo Carlos Salcedo and Marco Fabian into the group. That could be motivated by wanting Salcedo to get more time as the right-back in a back four, where he has played for Mexico but rarely plays on the club level.
It's also possible that one of the Dos Santos brothers edges into the starting XI, but after both played Friday for the LA Galaxy and with each coming off of injuries, it seems like an unnecessary risk that Osorio wouldn't have any desire to take.