Chelsea
Chelsea know what it takes to win the Premier League title, insists Hazard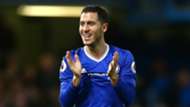 Eden Hazard says Chelsea have the know-how required to see through a Premier League title bid, with their credentials proved two seasons ago.
Plenty still to do for Mourinho at Man Utd
Antonio Conte's men have remained unbeaten domestically since seeing a 13-match winning run broken by Tottenham in their first outing of 2017 - winning four out of their last six matches.
The Blues are top of the standings, sitting 10 points clear of second-placed Spurs following their 3-1 win over Swansea City at the weekend.
And Hazard thinks the mental steel and experience of Chelsea will be enough for them to emerge victorious at the end of the season.
"We are professional," he told Chelsea's official website. "We won the league two years ago so we know what to do.
"We have been first for a few months, we want to stay at the top and we have to take it game after game."
Liverpool are right not to look for shortcuts
Hazard missed the chance to score his first goal since the start of February against Swansea, although he provided the assist for Diego Costa's strike.
But the Belgian indicated he does not care for personal glory so long as the team wins, adding: "For me it is the same if I score, don't score or assist.
"Even if I don't make an assist or score goals - if I play a good game and we win, I will be the first man happy on the pitch.
"In the second half [against Swansea] we created a lot of chances and scored two more. At the end, the result was 3-1 and it could maybe have been 5-1."