Eden Hazard
Hazard: Belgium's golden generation meaningless without trophy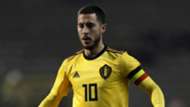 Eden Hazard says Belgium must win the World Cup with the current group of players or else their golden generation will have been a waste.
A lot has been expected of the Rode Duivels in recent competitions due to their talented squad made up of players from across Europe's top leagues.
Hazard, Romelu Lukaku and Co. made it to the quarter-finals of the 2014 World Cup and Euro 2016 in their most recent displays on the international stage, and are looking to go further this year to show they make up a historic Belgium team.
"We know what we are. We are good players, we all play in the big games in England, in Italy and in Spain, so we know what to do," Hazard told reporters.
"The golden generation thing - you have, 10 years or 15 years ago, this same golden generation in England, but you won nothing.
"Now I think the fans, journalists, all of Belgium, the country just want to win something. We have a golden generation, we just want to win something now.
"Maybe we can be different to England – we will see. Of course we are very excited about the World Cup, like always.
"We start the first game in 10 days, so we just want to be there and playing. We are in preparation, but we will be ready for the World Cup when it starts."
Belgium begin their tournament in Russia in a group consisting of Panama, Tunisia and England, and Hazard is looking forward to meeting some familiar faces in the clash in Kaliningrad.
"That will be a special game for us but first we have two other games, against Panama and Tunisia, and that is the third game," he added.
"Maybe in the past England would have been favourites, but now it is different.
"I think we are quite the same - it is 50-50 - England have a lot of good players, and we also have good players so we will see.
"I get kicked a lot, I am used to that in England, it is something I know. After two minutes I am in the game, I like to be kicked.
"And I enjoy being captain, of course. I am a leader on the pitch, but in the team we have a lot of players who can talk, they can say something.
"I am not the only captain, I try to do my best on the pitch, and be the leader on the pitch."