Transfers
Guillermo Ochoa move to Standard Liege the bare minimum for goalkeeper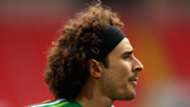 Was it timing? Success? Whatever it was, the first post Twitter's algorithm popped up seemed to reflect the mood so many Mexico fans felt upon hearing that Guillermo Ochoa is heading to Standard Liege.
"Change to a better agent, memooooo !!!!" the tweet read.
Cambia de representante mejor memooooo !!!! pic.twitter.com/EoEuKwsAS1

— L. Torres (@L14Torres) July 9, 2017
It's safe to say this isn't where we thought Ochoa would end up when we backed him for a move to one of Europe's top teams after the Confederations Cup. Is that his agent's fault? His own? 
Are Europe's top clubs already content with the goalkeepers they have? Or are they worried about the optics of signing a goalkeeper that has conceded goals in bunches, something that many of us in North America put down as the result of playing behind several back lines that rank among the worst in the top four leagues? 
Or were they worried they'd miss out on the goalkeeper as he waited until after the Confederations Cup to make a move?
Perhaps in North America we're simply overrating Ochoa. We've watched him grow up in front of our eyes, going from America hero and marketing darling to international player. When he's been on the grandest stages - the 2014 World Cup, the 2017 Confederations Cup - he's been excellent. His clean sheet against Brazil earned him acclaim around the world in 2014 and he was widely spoken of as the Man of the Match after Mexico's tournament-opening draw against Portugal this summer.
The rumors that he would return to Ligue 1, where he had played so well with Ajaccio, looked promising, and there were also reportedly suitors in La Liga. That Marseille vacancy seemed tailor-made for Ochoa. Yet, here he is, moving not only to the Belgian league but doing so with a team that won't be in the Europa League much less the Champions League in the upcoming season.
He did stay in Europe. That's clearly something he wanted to do. There reportedly were offers from Liga MX and MLS teams. And while Osorio has said he wants players to challenge themselves and press on when they encounter difficulty, would coming back to North America really put the former America goalkeeper's spot on the national team in any jeopardy? His chief competition plays in Liga MX with Alfredo Talavera, Jesus Corona and Rodolfo Cota all showing no sign of jumping abroad. 
The 31-year-old is just a year older than Keylor Navas, and while Costa Rica's No. 1 has consolidated his place at one of Europe's top clubs, surely Ochoa's resume and skillset don't put him that far behind. But now it seems that he is that far behind. While the Ticos will have Real Madrid's goalkeeper as their backstop in Russia, Mexico will come in with a goalkeeper playing outside Europe's top leagues. There's nothing wrong with that, but Ochoa seemed to deserve so much more.
What's the reason? For now, it's time to lean back on the cliche that it's a "cosa del futbol." It's just something that happens in the sport. Ultimately, if Ochoa performs well in Belgium, he'll head to the 2018 World Cup as Mexico's No. 1. If he's happy personally and professionally, the move won't have been a failure. But it's hard to shake the feeling that he could've achieved so much more.