WTF
What football boots do Messi, Ronaldo, Neymar & the top stars wear?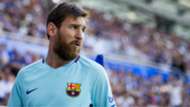 The days of a simple pair of black, leather football boots are long gone.
The pitches of the Premier League, La Liga and other top leagues nowadays are graced by much more colourful, eye-catching footwear and ever more intricate designs.
There are seemingly endless different types of boots now available to players professional and amateur alike, but what do the very best in the game like to wear?
Goal has rounded up the boot choices of the likes of Cristiano Ronaldo and Lionel Messi for an insight into which models they will be wearing during the 2017-18 campaign.
---
CRISTIANO RONALDO
---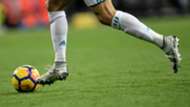 Having started the season in the Mercurial Superfly V (£260), Ronaldo is now wearing Nike's latest pair of custom 'CR7' boots.
The Mercurial CR7 - Melhor (£300) were launched ahead of this year's 'The Best' FIFA Football Awards, where Ronaldo was once again named Men's Player of the Year.
They are predominantly silver and black but also feature a blue Nike tick and brightly coloured ridges arching over the foot. The soles and studs are a striking metallic silver.
The Real Madrid star has worn Mercurials his entire career - starting, ironically, with the elder Ronaldo's R9s back when he made the breakthrough at Sporting and Manchester United.
---
LIONEL MESSI
---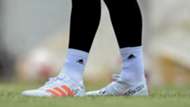 As is the case with Ronaldo and Nike, Messi wears Adidas top pair of boots - the Nemeziz - and has had a custom pair designed around his name.
The special Messi editions of the Nemeziz are available in three different colours, with the Argentine currently wearing the white-and-orange 'Tango' colourway. He sported a blue pair earlier this season to match his Argentina kit.
The five-time Ballon d'Or winner wore Adidas' F50 boots before the company switched up their brands a few years back.
---
NEYMAR
---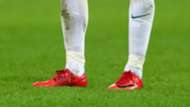 Neymar is on his second pair of boots this season.
At the start of the campaign, Nike took their Mercurial base and created the Mercurial Superfly V Neymar (£270), which come in a very Brazilian light blue, yellow and green colourway and featured a more traditional Nike 'swoosh' than Ronaldo's Mercurials.
(Funnily enough, though, Neymar wore a cheaper version, preferring the Mercurial Vapor XI Neymar (£210) without the attached ankle sock.)
Now, though, the PSG star has switched to the new 'Play Fire' bright-red Mercurials (£200).
---
GARETH BALE
---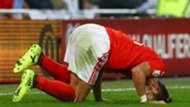 Bale wears the Adidas X 17+ Purespeed boots, which cost £250.
He wore a white-and-blue pair at the end of last season but has switched to the new fluorescent yellow models for the 2017-18 campaign.
---
LUIS SUAREZ
---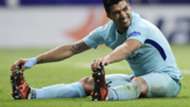 For Suarez, see Bale.
It's the Adidas X 17+ Purespeed models for the Barcelona striker, too. He was wearing the fluorescent yellow edition at the start of this season but has since switched to a dark orange pair.
Adidas say they are designed for explosive speed and finishing, so you can see why Bale and Suarez have gravitated towards them.
---
ANTOINE GRIEZMANN
---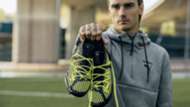 Griezmann has been through a few pairs of boots already this season.
The Atletico Madrid star is one of Puma's biggest players and was given their top-of-the-range boot, the Puma One 17.1 (£160), at the start of the campaign.
Rumour has it that Griezmann wasn't particularly fond of them, though, and that was backed up by the fact he was frequently seen wearing the older Evospeed models instead.
Puma fixed that by debuting the striking new all-silver Puma One Chrome boots (£220).
And now they have given him another pair to try on for size, releasing the Puma Future (price yet to be announced). They can apparently be laced specifically to fit the wearer's foot.
---
ROBERT LEWANDOWSKI
---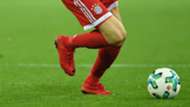 Bayern Munich hitman Lewandowski is the face of Nike's line of Hypervenom boots, which are marketed to strikers.
He started the season in the Hypervenom Phantom 3 (£250) but has since switched colourways following the release of Nike's 'Play Fire' campaign.
---
ALEXIS SANCHEZ
---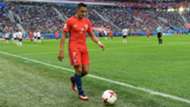 Alexis is another Nike man and has recently started wearing the same 'Play Fire' Mercurials as Neymar.
At this summer's Confederations Cup and for Chile's recent World Cup qualifiers, though, Alexis wore what appeared to be a custom pair of Mercurials (pictured above) in the Chile colours.
These don't seem to have ever been publicly released or put on sale - and they probably won't be, given Chile's failure to reach the World Cup finals.
---
EDEN HAZARD
---
Hazard released his own pair of Nike boots, the Flyknit Ultra, earlier this season.
They cost £210 and were available in limited quantities directly from Nike, meaning they are sure to be seriously hot property (it helps that they look absolutely gorgeous).
The boots Hazard wears are predominantly black with a metallic gold sole and Nike swoosh outline. They are also available, however, in a pitch-black version with a dark silver sole.
Oddly, though, Hazard only appears to have worn them briefly before switching to the bright-blue 'Play Ice' versions of Nike's latest Mercurials.
---
LUKA MODRIC
---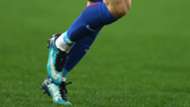 One of the world's top midfield playmakers opts for the Nike Mercurial Vapor XI, which cost around £200.
Like Hazard, Modric has recently switched to the blue 'Play Ice' models Nike has released.
---
PAUL POGBA
---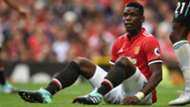 Pogba is the face of Adidas' Ace boots and was wearing the Ace 17+ Purecontrol (£250) before he suffered an injury.
Like the X 17+ boots Bale and Suarez wear, these do not have any laces and are supposed to mould to your feet instantly with no wear-in time required.
It would not be a surprise, though, to see the Frenchman donning something new - or at least a new colour - when he makes his comeback.