Arsenal
Ex-Arsenal youth star Akpom revitalising his career in Greece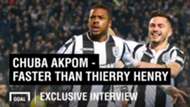 Sixteen years at Arsenal, six successive loan spells and one club record later - despite being only 23, Chuba Akpom feels many see him as having been "around for a long time". Perceptions, though, are not always accurate.
Akpom's time at Arsenal came to an end over the summer when the Gunners accepted an offer from Greek side PAOK to let their once much-heralded academy product leave for regular first team football.
Akpom's decision to play in Thessaloniki has so far proved an astute one. After an initial adapation period, the former England youth striker has scored two goals in six league appearances, while he has also been involved in the Europa League group stage campaign – reinforcing why the move from north London was the right decision for his development.
"Before I even spoke to [Unai] Emery I was realistic," Akpom told Goal.
"There were good strikers ahead of me, more experienced than me. I'm still young so I knew I had to get more experience but I knew realistically I wouldn't get much game time as I wanted.
"I spoke to the coach and he told me the exact same thing. It was good to get that honesty, that's what you want from a manager. I took it from there and came to PAOK.
"I'm enjoying it so far. I've settled in. It's exciting because we're doing well in the league and it's all looking positive.
"There were a lot of things [behind my decision to join PAOK]. I saw the team should have won the championship last season but they were deducted points. This season the ambitions are very strong. 
"I spoke to the directors and chairman, they told me the ambition, they brought in new players and wanted to push for the league. They also said they could be involved in the Champions League or Europa League so that was a big motivation for me to come to PAOK."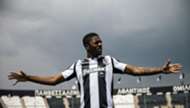 Loan spells at Brentford, Coventry City and Nottingham Forest over the course of two seasons did not give Akpom the experience he wanted, though he admits that the experience of playing for an array of Championship and League One teams helped him mature as a person and player.
"I've always said that all of the loans have helped contribute to the person and footballer that I am now. 
"I've been going on loan since I was 18. Stepping into the man's game at such a young age is really good. I was in different leagues in England, League 1, Championship. I feel like even though I'm still young I'm still experienced for my age. 
"Sometimes when I say how old I am to people they think 'he's only 23' but I've been around for a long time. I definitely think the loans have helped me develop as a player and a person."
While he may have struggled to live up to the goalscoring expectations many adorned on him at Arsenal, there is one record Akpom can boast at the club's London Colney training ground – beating the sprint record once set by Gunners legend Thierry Henry.
"This is when I was 19," Akpom explains. "We did a 10 metre sprint and when we did it the fitness instructor told me that 'this is the record held by Thierry Henry before'. Obviously I was buzzing because Henry was rapid over short and long distance.
"I think I still hold that record actually, I'm not sure. I remember I saw him [Henry] around the training ground and I said it to him and he started smiling and laughing."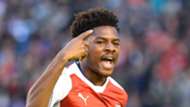 Another French influence at Arsenal departed the club in the summer after two decades as manager. Arsene Wenger was the footballing figurehead who took Akpom on his first pre-season tour, blooded him in the first team and gave him his first professional contract, all of which he remains deeply thankful for.
"He [Wenger] was important for me to developing as player. He was the one who gave me my first taste of football. Unfortunately I couldn't get the opportunities that I wanted under him but I do appreciate everything he did for me. 
"Taking me on pre-seasons, putting me on cup games and Premier League games, giving me that exposure. He has a big part to play in the player I am now."
Akpom, who is of Nigerian descent, admits he still has aims of playing for the Super Eagles at national team level. The forward grew up together with current Arsenal and Nigeria star Alex Iwobi, a player who Akpom greatly admires and describes as "one of the best I've ever seen."
"Alex is a very good player," said Akpom.
"He's the perfect Arsenal player - he's got Arsenal in his DNA!" 😍@CAkpom sat down with @ChrisWheatley_ and was full of praise for @AlexIwobi! 🙌 #AFC pic.twitter.com/Y4P2FzVPer

— Goal UK (@GoalUK) December 13, 2018
"The thing with Alex is that you need to know football to understand how good he is. Technically he's unbelievable, his understanding of the game is unbelievable – one of the best I've seen anyway. I feel like you need to understand football to know this. He's a perfect Arsenal player. 
"When we were growing up playing football with eachother the coach used to say look at the way Alex does this, look at the way Alex does that because he's got Arsenal in his DNA. He's a good guy – we've been close friends since nursery, primary school – he's a humble guy and we still speak about his games and my games. 
"It's good to see him doing so well at Arsenal even though it didn't work out for me, I've taken another path. I've always said I hope we can play against eachother or play with eachother on another occasion. 
"Obviously he plays for Nigeria so hopefully I can be called up for Nigeria and play with him. It's just good to see two people that have grown up together doing their own things with their football careers."
Akpom shares the same agent as English starlets Reiss Nelson and Jadon Sancho. The duo are starring for Hoffenheim and Borussia Dortmund in the Bundesliga this season and have bucked the trend of young English players staying to play under-23 football, opting for senior first team football instead.
"They're on fire," said Akpom "We all have the same agent; me, Alex, Reiss and Jadon. It's good to see them take off how they're taking off. 
"Everyone knew they had the ability, Jadon played for England. If it wasn't for them taking that risk by going abroad to the Bundesliga they'd probably be still playing in the reserves somewhere. 
"It's good that they went out there and are showing their full potential. They're looking like world class talents at the moment so the only way is up for them."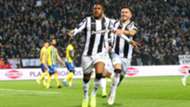 With Danny Welbeck sidelined through injury and youngster Eddie Nketiah likely to be given an opportunity in the cup competitions, there could be a part of Akpom reflecting on whether circumstances could have been different at Arsenal.
However, the Canning Town-born striker insists he is now reaping the rewards of his decision to join the current form team in Greece where his lofty ambitious continue to drive him.
"I always think everything happens for a reason. If you look back and say 'what if' you can say that at so many things in life. You have to make a decision and follow your heart and go with it. 
"I'm actually very happy at PAOK, we're top of the league, we're competing in the Europa League and it's good exposure for me. I'm getting my head down and keep working hard. 
"My goals are to help the team win the championship because we can put ourselves in the history books as it's been a long time since PAOK have won the championship. 
"We want to qualify for the next phase of the Europa League and win the Greek Cup as well. It's an ambitious team and I'm hoping to contribute with goals and assists as much as I can."