Mexico
Europe-based players flash their form in Mexico win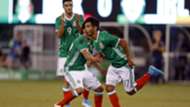 After watching his attack struggle to finish off chances in a friendly against Croatia, Juan Carlos Osorio must have liked what he saw in Thursday's 3-1 victory over Ireland.
The Mexico national team coach put out a Europe-based trident of Carlos Vela and Jesus "Tecatito" Corona on either side of Raul Jimenez and was able to reap the results.
WATCH: Tecatito's golazo opens scoring
It's easy to see why the coach encourages players to go abroad. Vela and Corona were unconventional in leaving Mexico early and challenging themselves to earn a place in a top team, Vela trying to break through at Arsenal before settling in at Real Sociedad while Corona fought through in the Netherlands after leaving Monterrey and now plays with Porto.
Their elevated level was on display in the friendly triumph, even against an Ireland team that while also deploying a handful of players based in top European leagues was overmatched by what El Tri was able to do. 
Vela and Corona switched flanks often but both found opportunities no matter where they roamed on the field. Corona missed a chance that Vela set up with a move to the end line and a patient diagonal pass back into the box. Minutes later, the Porto winger proved his finishing ability is still very much in tact. On a counterattack Jorge "Burrito" Hernandez found Corona out wide. The 24-year-old moved inside and curled a gorgeous shot in from outside the box.
It was one of the few plays in the first hour that involved a chance Vela wasn't in on, contributions that eventually were rewarded with a goal of his own in the 53rd minute when Oribe Peralta was able to find him practically standing on the goal line with a pass that allowed Vela to fake a shot and walk the ball in.  
 | #UDAmistoso : 53'. Gooooool de @miseleccionmx . Vela marca el tercero tras una buena jugada con Oribe https://t.co/HFjdTJ7jbE pic.twitter.com/1HqtmIemIa

— Univision Deportes (@UnivisionSports) June 2, 2017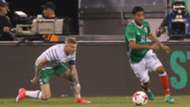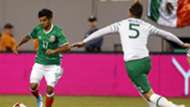 Jimenez converted a penalty and also was dangerous from the run of play, drawing defenders with his runs and dropping back to help when Ireland did win the ball. He played well when he moved out to the right after Peralta entered the match after the halftime break, continuing to give Osorio an option next to likely center forward starter Javier "Chicharito" Hernandez. 
Rising Mexico stars unsure of European future
While the trio saw different amounts of minutes and shouldered different levels of responsibility with their European clubs, the difference in their level of play was obvious. The training sessions and competition - both internal and external - have helped these players surpass many of their domestic-based teammates.
While Osorio will be thrilled, he may have concerns about leaning on those attackers too heavily. Between a European season that started in August and has hardly let up since and the amount of travel players have been subjected to, it's possible they won't be able to flash that form in the Confederations Cup in Russia.
For now, though, the coach can enjoy what he saw from Vela, Corona and Jimenez, knowing his attack doesn't have the issues many worried about after a listless performance against Croatia. Mexico's attack is ready, and the team is ready for a summer that will bring World Cup qualifiers before the Confederations Cup and the Gold Cup.
Mexico doesn't have a choice but to be ready. Thursday was a feel-good friendly win. From here on out, it's matches that matter. The Europe-based attackers look up to the task.