eSports
eFootball League fixtures and results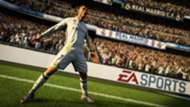 The 2018 eFootball League has reached the knock-out stage, with 16 teams left to battle it out for a share of $10,000 prize pool.
The invite-only tournament features some of the best FIFA eSport players from across Europe and is being broadcast exclusively by Goal on Facebook, YouTube and Twitch.
To watch the best of the week's action, catch the weekly highlights show every Thursday 20:00 GMT (15:00 US East Coast) between now and the semi-finals and finals, which will be broadcast live from a European football stadium in March.
The results and tables from the group phase are below, along with the fixtures for the last 16.
---
Group tables - Xbox Divisions
---
Group A 
| Pos | Team | P | F | A | GD | Pts |
| --- | --- | --- | --- | --- | --- | --- |
| 1 | FUTWIZDubzje (Team FUTWIZ) | 3 | 16 | 7 | 9 | 7 |
| 2 | Redinho10x (Team Reborn) | 3 | 10 | 7 | 3 | 5 |
| 3 | Danihagebeuk (AFC Ajax) | 3 | 14 | 9 | 5 | 4 |
| 4 | JordanGearyy (Linfield FC) | 3 | 5 | 22 | -17 | 0 |
Group B
| Pos | Team | P | F | A | GD | Pts |
| --- | --- | --- | --- | --- | --- | --- |
| 1 | Emrebenli_7 (FC Twente) | 3 | 10 | 6 | 4 | 7 |
| 2 | WHU_Jamboo (West Ham United FC) | 3 | 11 | 10 | 1 | 6 |
| 3 | NTFC_Reaperzz (Northampton Town) | 3 | 12 | 10 | 2 | 4 |
| 4 | DragonFIFA_ (Lightning Pandas) | 3 | 6 | 13 | -7 | 0 |
Group C
| Pos | Team | P | F | A | GD | Pts |
| --- | --- | --- | --- | --- | --- | --- |
| 1 | JakeR1401 (Wolverhampton Wanderers FC) | 3 | 10 | 6 | 4 | 5 |
| 2 | M_Herozia (Millennium) | 3 | 8 | 7 | 1 | 5 |
| 3 | Jaeydaalhuisen (Feyenoord) | 3 | 10 | 7 | 3 | 4 |
| 4 | Rannerz_ (Dundalk FC) | 3 | 3 | 11 | -8 | 0 |
Group D
| Pos | Team | P | F | A | GD | Pts |
| --- | --- | --- | --- | --- | --- | --- |
| 1 | MegaBit98 (VFL Bochum) | 3 | 7 | 5 | 2 | 7 |
| 2 | MitchelDecibel (ADO Den Haag) | 3 | 9 | 6 | 3 | 5 |
| 3 | Epsilon_Guigsey (Epsilon) | 3 | 6 | 6 | 0 | 4 |
| 4 | Mckieee_x (Shamrock Rovers) | 3 | 6 | 11 | -5 | 0 |
Group E
| Pos | Team | P | F | A | GD | Pts |
| --- | --- | --- | --- | --- | --- | --- |
| 1 | xL_Painter (ExceL) | 3 | 6 | 2 | 4 | 9 |
| 2 | Nickdenhamer (FC Groningen) | 3 | 8 | 7 | 1 | 6 |
| 3 | Marlut96 (VfB Stuttgart) | 3 | 4 | 5 | -1 | 3 |
| 4 | JACKB20_ (Hibernian FC) | 3 | 3 | 7 | -4 | 0 |
Group F
| Pos | Team | P | F | A | GD | Pts |
| --- | --- | --- | --- | --- | --- | --- |
| 1 | GoalGrayza (Goal) | 3 | 7 | 5 | 2 | 6 |
| 2 | NickCooiman (VVV-Venlo) | 3 | 5 | 4 | 1 | 4 |
| 3 | Poacherrrr (AS Roma FNATIC) | 3 | 5 | 5 | 0 | 4 |
| 4 | Moorso_619 (Crusaders FC) | 3 | 4 | 7 | -3 | 3 |
Group G
| Pos | Team | P | F | A | GD | Pts |
| --- | --- | --- | --- | --- | --- | --- |
| 1 | Epsi__ (Terrassa FC) | 3 | 8 | 5 | 3 | 7 |
| 2 | LevyFrederique (S.B.V ExceLsior) | 3 | 12 | 1 | 11 | 6 |
| 3 | DKBryanOfficial (Defuse Kids) | 3 | 10 | 6 | 4 | 4 |
| 4 | ChappersE (The New Saints) | 3 | 2 | 20 | -18 | 0 |
Group H
| Pos | Team | P | F | A | GD | Pts |
| --- | --- | --- | --- | --- | --- | --- |
| 1 | Proownezyt (Stark eSports) | 3 | 13 | 5 | 8 | 9 |
| 2 | LewisH90 (ForF1FA Sake) | 3 | 12 | 5 | 7 | 6 |
| 3 | LH06_ (Hamilton Academical FC) | 3 | 4 | 14 | -10 | 3 |
| 3 | _JulianOfficial (Standard Liege) | 3 | 2 | 7 | -5 | 0 |
---
Week One results
---
| Home | Away | Result |
| --- | --- | --- |
| Danihagebeuk (AFC Ajax) | Redinho10x (Team Reborn) | 3-3 |
| FUTWIZDubzje (Team FUTWIZ) | JordanGearyy (Linfield FC) | 9-2 |
| DragonFIFA_ (Lightning Pandas) | WHU_Jamboo (West Ham United FC) | 3-4 |
| Emrebenli_7 (FC Twente) | NTFC_Reaperzz (Northampton Town) | 3-3 |
| Rannerz_ (Dundalk FC) | JakeR1401 (Wolverhampton Wanderers FC) | 1-5 |
| Jaeydaalhuisen (Feyenoord) | M_Herozia (Millennium) | 3-4 |
| MitchelDecibel (ADO Den Haag) | Epsilon_Guigsey (Epsilon) | 3-3 |
| Mckieee_x (Shamrock Rovers) | MegaBit98 (VFL Bochum) | 3-4 |
| Nickdenhamer (FC Groningen) | xL_Painter (ExceL) | 1-2 |
| JACKB20_ (Hibernian FC) | Marlut96 (VfB Stuttgart) | 0-1 |
| Poacherrrr (AS Roma FNATIC) | Moorso_619 (Crusaders FC) | 2-1 |
| NickCooiman (VVV-Venlo) | GoalGrayza (Goal) | 3-0 |
| LevyFrederique (S.B.V ExceLsior) | DKBryanOfficial (Defuse Kids) | 3-0 |
| ChappersE (The New Saints) | Epsi__ (Terrassa FC) FC | 2-4 |
| LH06_ (Hamilton Academical FC) | _JulianOfficial (Standard Liege) | 2-1 |
| Proownezyt (Stark eSports) | LewisH90 (ForF1FA Sake) | 5-2 |
---
Week Two results
---
| Home | Away | Result |
| --- | --- | --- |
| Redinho10x (Team Reborn) | FUTWIZDubzje (Team FUTWIZ) | 3-3 |
| JordanGearyy (Linfield FC) | Danihagebeuk (AFC Ajax) | 2-9 |
| WHU_Jamboo (West Ham United FC) | Emrebenli_7 (FC Twente) | 2-3 |
| NTFC_Reaperzz (Northampton Town) | DragonFIFA_ (Lightning Pandas) | 5-2 |
| M_Herozia (Millennium) | Rannerz_ (Dundalk FC) | 1-1 |
| JakeR1401 (Wolverhampton Wanderers FC) | Jaeydaalhuisen (Feyenoord) | 2-2 |
| Epsilon_Guigsey (Epsilon) | Mckieee_x (Shamrock Rovers) | 3-2 |
| MegaBit98 (VFL Bochum) | MitchelDecibel (ADO Den Haag) | 2-2 |
| Marlut96 (VfB Stuttgart) | Nickdenhamer (FC Groningen) | 2-3 |
| xL_Painter (ExceL) | JACKB20_ (Hibernian FC) | 2-0 |
| GoalGrayza (Goal) | Moorso_619 (Crusaders FC) | 4-0 |
| Poacherrrr (AS Roma FNATIC) | NickCooiman (VVV-Venlo) | 1-1 |
| Epsi__ (Terrassa FC) FC | LevyFrederique (S.B.V ExceLsior) | 1-0 |
| DKBryanOfficial (Defuse Kids) | ChappersE (The New Saints) | 7-0 |
| LewisH90 (ForF1FA Sake) | LH06_ (Hamilton Academical FC) | 8-0 |
| _JulianOfficial (Standard Liege) | Proownezyt (Stark eSports) | 1-3 |
---
Week Three results
---
| Home | Away | Result |
| --- | --- | --- |
| JordanGearyy (Linfield FC) | Redinho10x (Team Reborn) | 1-4 |
| FUTWIZDubzje (Team FUTWIZ) | Danihagebeuk (AFC Ajax) | 4-2 |
| WHU_Jamboo (West Ham United FC) | NTFC_Reaperzz (Northampton Town) | 5-4 |
| Emrebenli_7 (FC Twente) | DragonFIFA_ (Lightning Pandas) | 4-1 |
| Rannerz_ (Dundalk FC) | Jaeydaalhuisen (Feyenoord) | 1-5 |
| JakeR1401 (Wolverhampton Wanderers FC) | M_Herozia (Millennium) | 3-3 |
| MitchelDecibel (ADO Den Haag) | Mckieee_x (Shamrock Rovers) | 4-1 |
| Epsilon_Guigsey (Epsilon) | MegaBit98 (VFL Bochum) | 0-1 |
| JACKB20_ (Hibernian FC) | Nickdenhamer (FC Groningen) | 3-4 |
| xL_Painter (ExceL) | Marlut96 (VfB Stuttgart) | 2-1 |
| NickCooiman (VVV-Venlo) | Moorso_619 (Crusaders FC) | 1-3 |
| GoalGrayza (Goal) | Poacherrrr (AS Roma FNATIC) | 3-2 |
| LevyFrederique (S.B.V ExceLsior) | ChappersE (The New Saints) | 9-0 |
| Epsi__ (Terrassa FC) | DKBryanOfficial (Defuse Kids) | 3-3 |
| LewisH90 (ForF1FA Sake) | _JulianOfficial (Standard Liege) | 2-0 |
| LH06_ (Hamilton Academical FC) | Proownezyt (Stark eSports) | 2-5 |
---
Last 16
---
| Home | Away | Result |
| --- | --- | --- |
| FUTWIZDubzje (Team FUTWIZ) | M_Herozia (Millennium) |   |
| JakeR1401 (Wolverhampton Wanderers FC) | Redinho10x (Team Reborn) |   |
| Emrebenli_7 (FC Twente) | MitchelDecibel (ADO Den Haag) |   |
| MegaBit98 (VFL Bochum) | WHU_Jamboo (West Ham United FC) |   |
| xL_Painter (ExceL) | LevyFrederique (S.B.V ExceLsior) |   |
| Epsi__ (Terrassa FC) | Nickdenhamer (FC Groningen) |   |
| GoalGrayza (Goal) | LewisH90 (ForF1FA Sake) |   |
| Proownezyt (Stark eSports) | NickCooiman (VVV-Venlo) |   |