Puyol
Dubai International Sports Conference ends with Infantino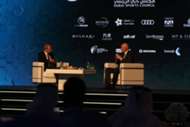 Marcelo Lippi was joined by his fellow Italian Pierluigi Collina and current football referee Felix Brych from Germany to speak during the first program of the day, which focused on the importance of technology in football.
Brych spoke about the controversial video assistant referee (VAR) which has been implemented in leagues around the world this season, saying that "in order for referees to be prepared for this phenomena, there will be 6 to 8 weeks training camps".
The second session of the day saw legends Carlos Puyol, Francesco Totti and Ismail Matar talk about their experiences as one club players. Puyol highlighted two things that have changed since his time, the movement of Spanish players abroad and the expensive prices for defenders. He claimed that the "75 million fee for Virgil van Dijk is just absurd", before continuing that "it would be impossible to see this transfer 15 years ago."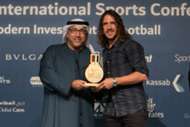 Finally, the FIFA President Gianni Infantino spoke to the press about a variety of topics in world football. He touched upon how football could improve the lifestyle of people and how FIFA could play a role in this.
He further spoke about the FIFA World Cup and how qualification for the extra 16 nations to join after 2022 will be a key factor for their development. "I believe in hosting a big World Cup", he said as he addressed the audience.
This concluded the two-day conference before the evening of the 28th sees the Globe Soccer Awards take place to give out the awards to the best player, manager, club and Arabian national team.