Donovan: Berhalter would be an excellent choice as USMNT coach
Last Updated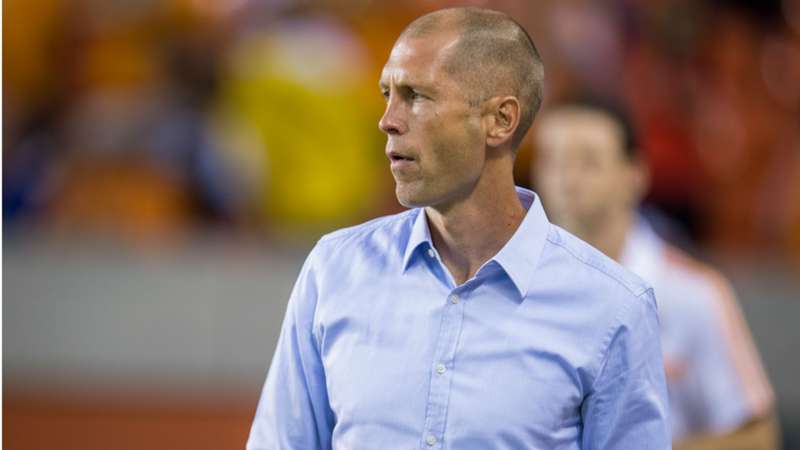 Trask Smith
The epically long search for the next U.S. national team coach is winding to a close, with a hire expected to be made before the end of November. All signs point to Columbus Crew head coach Gregg Berhalter being the pick, and that would be perfectly fine with Landon Donovan.
The retired U.S. national team legend was full of praise for Berhalter, who saw his team's season ended in Sunday's MLS playoff loss to the New York Red Bulls.
"What he's done with much less budget than the other teams historically in the playoffs is remarkable, so you have to give him a ton of credit for that," Donovan told Goal. "I didn't need to be reminded that he's a good coach, but maybe some people did. He's certainly shown that through the playoffs and I think he would be an excellent choice if he were hired."
Donovan and Berhalter were teammates on the 2002 U.S. World Cup team, and also for three seasons with the LA Galaxy from 2009 to 2011. Berhalter's playing career came to an end while serving as a player-coach on the 2011 MLS Cup-winning Galaxy side. During Berhalter's stint with the Galaxy, Donovan was able to see firsthand how serious his teammate was was about becoming a coach.
"He's had his eye on coaching for a long time and to his immense credit it's not just, 'Oh, I want to be a coach,'" Donovan said. "He's actually put in tons of work and gone through all the right channels. He's put in all the work and the effort to prepare himself and it's paying off."
Berhalter helped lead the Crew to the MLS playoffs for the fourth time in five seasons in 2018, helping Columbus eliminate D.C. United before falling just short against the Supporters' Shield-winning Red Bulls in the Eastern Conference semifinals.
Berhalter's work with the Crew in 2018 was made more impressive by the fact he and the Crew were dealing with the distraction of the team potentially preparing for a move to Austin, Texas.
While Donovan sang Berhalter's praises, he stopped short of saying Berhalter would be his first choice, saying there were a handful of MLS coaches he believed could do the job.
"I would have a list of probably three or four people," Donovan said. "Berhalter would be on my list. (Toronto FC coach Greg) Vanney would be on my list, (Sporting KC coach) Peter Vermes and (FC Dallas coach) Oscar Pareja."
U.S. national team general manager Earnie Stewart will make the final decision on the next USMNT coach and is believed to have focused his search on MLS candidates, which Donovan believes is the way to go for hiring a coach who will take over a national team in transition.
"We've done the very experienced, successful route with both Bruce (Arena) and Bob (Bradley)," Donovan told Goal. "We did the sort of foreign, big-name route with Jurgen (Klinsmann).
"I don't see the reason why we shouldn't give a coach who's coached in Major League Soccer a real chance. I think that's why that list of people I named would be great choices."