Mexico
Chicharito: Mexico coach Osorio 'like a genius'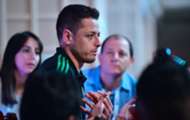 Javier "Chicharito" Hernandez praised Mexico head coach Juan Carlos Osorio, saying the coach transmits knowledge well to his players and has set himself apart from other managers.
Osorio has been heavily criticized by Mexico fans and the press, but his players generally have come to his defense. Chicharito has been one of the manager's strongest supporters, and Friday was no different. The 29-year-old forward said Osorio is on another level both when talking about soccer and when thinking about life.
"It's great. It's unbelievable. It's as simple as that. It's a great experience," he said when asked what it's like working with Osorio. "He's a great human being, a great man, his character. He's a very special character as well.
"I call him, in a way, like a genius because they live in a completely different world than ourselves. And a part of that, speaking about football, he has a lot of knowledge that even if you can speak five minutes with him about one game or one player, he gives you the way he sees football and the way he sees that player and it's knowledge that you can learn if you want.
"He's a great, great man with a lot of knowledge. I think he's a very good man as well to trust. Those two parts for me, football and life, are very important."
Despite the praise for the coach, he pushed back on a question about Osorio being the key to the teams success. The West Ham forward said people should stop looking for a single thing that will change Mexico's fortunes and instead realize it will take a culmative effort for El Tri to have a successful World Cup.
"He's a fundamental part like I am, like you are, like the critics are, like the president, like the fans - this is for them," he said. "It's something I'd love for the people to be open toward. We don't have to look for something like 'Juan Carlos Osorio is the key' or 'Javier Hernandez is the key' or 'El Chucky is the key,' no, look, I understand how the press works but there's no secret formula here. We want to do is do everything possible to work and get things in our favor and deserve to win."
Mexico takes on Wales on Monday in Pasadena, California before flying back to Mexico City to face Scotland. It closes out its World Cup preparation with a contest against Denmark in Copenhagen.