United States
Arena the key to U.S. success in return to Azteca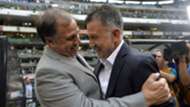 MEXICO CITY — The moment the U.S. national team's starting lineup came out Sunday, the reaction from some fans was, "What is Bruce Arena thinking?"
It was clear Arena thought thoroughly about the need for fresh legs and the effect of playing on such short rest, while also knowing he would need to change his team's approach tactically to deal with a dangerous Mexico squad.
Where were Lozano and Chicharito?
The coach's decision to deploy the rarely used three-man defense wasn't something that he came up with on the fly. After the match he acknowledged having decided to deploy it against El Tri months ago, believing it would give his team a chance to earn a result at Estadio Azteca. He informed the team on the first day of camp what he had in store for Mexico, and proceeded to have two groups training on different tactics — one preparing for Trinidad & Tobago in a 4-4-2 and another preparing for Mexico in a 3-4-3.
Arena's game plan worked to perfection, as his 3-4-3 formation helped frustrate Mexico's dangerous attack, and the youngsters he called on to perform on a big stage all delivered, looking every bit like players who believe in their coach.
A quick look at the starting lineups before the match would have left most believing a big Mexico win was inevitable. But it was Arena's plan to clog the wings and force El Tri to either work centrally or deal with numbers mismatches on the flanks that ultimately kept Mexico at bay in the 1-1 draw.
Arena deployed Christian Pulisic and Paul Arriola as wide forwards who went right at Mexico's fullbacks, forcing them to stay deep and also forcing their wingers to help defensively. This approach led Mexico coach Juan Carlos Osorio to make a tactical substitution in the 31st minute to better cope with Arriola's attacking pressure on the left back position.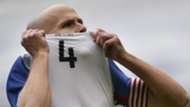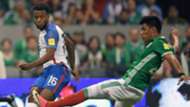 The moment generated flashbacks of the 2002 World Cup, when Arena famously deployed a similar approach of going at Mexico's left back, forcing a first-half substitution by then-Mexico manager Javier Aguirre.
Osorio surely came away impressed with Arena's game plan, which was significantly more difficult to deal with than the one he faced against Jurgen Klinsmann in November. Klinsmann had a similar idea of going with a three-man back line in the 2-1 loss to Mexico in Columbus, but that U.S. team looked woefully unprepared for the strategy, leading to mistakes and a change to a 4-4-2 in an attempt to salvage the game.
Arriola and Kellyn Acosta, two players who were barely out of kindergarten when Arena was leading the U.S. to World Cup glory over Mexico in 2002, stepped into the lineup and showed why Arena believed they could handle the stage. Arriola, fresh off an impressive season with Club Tijuana, looked fearless in attack, playing in an advanced role and capitalizing on space when Mexico focused too much on Pulisic.
Player Ratings: Bradley, Cameron step up
Acosta was particularly impressive partnered with Michael Bradley in central midfield. The FC Dallas man broke up plays defensively and contributed good passes to help spring counterattacks.
The three center backs also held up well, with Geoff Cameron and Omar Gonzalez breaking up countless Mexico threats. Gonzalez will kick himself for the two golden opportunities he had to head home a potential winning goal, but defensively the Pachuca man rarely put a foot wrong.
By the end of the match Mexico managed a 3-1 edge in possession, but that time on the ball only produced one shot on goal — Carlos Vela's equalizer. Arena deployed a system he believed could limit El Tri's dangerous chances and that's what it did.
Now, with four points from the June qualifiers, and a total of eight points since Arena took over, the U.S. heads into the summer having found new options capable of stepping into the lineup when needed — and in the case of someone like Acosta, a player who could be a starter for a long time.
That, along with establishing a new system the U.S. can use when needed, makes Arena's first six months a rousing success. And Sunday's match provided plenty of reason to believe that the U.S. is poised to find further success in Arena's second stint as coach.