Mexico
Antuna hat trick shows Mexico still deep enough to roll in Gold Cup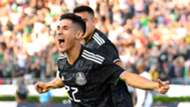 Maybe Uriel Antuna knew he'd get a shot. 
Mexico manager Tata Martino kept him with the squad even after he was cut. Even after he spoke to reporters in the mixed zone after a 3-1 victory over Venezuela in Atlanta, unaware his name wasn't on the roster the coach read out as his final Gold Cup squad, perhaps the 21-year-old knew. There was the injury to Edson Alvarez, later one to Hector Moreno. 
Ultimately it was Jorge Sanchez's place the LA Galaxy attacker ended up getting, officially being added to the roster late Friday. Martino was true to his word. "Antuna always comes in," the coach said when asked about potential replacements after the Ecuador match. Then another knock, this time to attacker Rodolfo Pizarro cleared the way for Antuna not just to come into the team, but to come right into the starting lineup. 
In a 7-0 rout of Cuba on Saturday, Antuna made the most of his chance, scoring three goals and making a case that Mexico's depth players are more than enough to get El Tri through this Gold Cup. 
Martino gave Antuna the opportunity to replace Pizarro rather than start Orbelin Pineda, the Cruz Azul midfielder who also has played on the wing. The manager liked Antuna's first start against Ecuador, though it was hardly perfect. 
"Uriel, I think for his first game, he played with a lot of determination, he sacrificed a lot," Martino said after the Ecuador friendly. "Maybe it wasn't as dangerous as we'd have wanted in attack, but he worked really well in the press, working with the defense, he ran a lot, he was intense. Obviously we hope for more, above all, in the attack." 
He got exactly what he asked for from the Torreon native. 
None of the three goals were a work of art, with all falling in the 'right place, right time' category. In the third minute, Raul Jimenez got on the end of a cross from Jesus Gallardo but could only hit the post with his shot. Antuna was there, crashing the net, to usher the opener across the line. 
His second saw Jimenez put in a low cross with its intended recipient blocked, but Antuna won the race to the ball and roofed it for a double in his second-ever Mexico start. 
¡¡GOOOOOOLLLL DE ANTUNA!! DOBLETE DE URIEL Y GRAN ASISTENCIA DE RAÚL JIMÉNEZ aprovecha un rebote y marca el tercero para México.

México 🇲🇽 4-0 🇨🇺 Cuba

Disfruta de #TuCopaOro EN VIVO 👉 https://t.co/2ruANpcr8e pic.twitter.com/N2KreGKdtb

— Univision Deportes (@UnivisionSports) June 16, 2019
Later it was Antuna becoming the provider, setting up Chivas forward Alexis Vega's debut goal with the national team with a low cross that spun past the weary Cuba back line and sat up for a Vega tap-in that made it six goals past goalkeeper Sandy Sanchez. 
He got back to his clean-up duties with 10 minutes left to go until the whistle. Carlos Rodriguez tried to beat Sanchez from just outside the box, but the goalkeeper pushed his shot aside. Once again Antuna was there, and his hat trick was completed. 
Much has been made of the lack of depth for the Mexico national team going into this tournament. With stars absent including Hirving Lozano, Carlos Vela and Hector Herrera, who would've started had they been healthy or wanted to play for Mexico, it's easy to understand why. However, Antuna, a player who wasn't even among Martino's 23 initial picks, showing up for El Tri like he did certainly lends credence to the idea that Mexico is deep enough to win the tournament. It's certainly deep enough to get into the semifinals without breaking too much of a sweat if it keeps playing with the intensity it played with Saturday night. 
It's been a strange journey for Antuna. From Santos, where he was trying to win a starting spot to suddenly being snapped up by City Football Group. Then it was the Netherlands on loan, where he earned only limited minutes with Groningen. He appeared in just 11 matches in 2017-18 and nine a year later. The chance to join the Galaxy this season and work with Guillermo Barros Schelotto gave the young player a lifeline he'd been looking for and the chance to finally become a day-in, day-out starter. 
It's something he'd wanted since before his move to Europe. 
"The truth is that it's an extra motivation to be at a club like Santos that gives so many opportunities to young players," he told Goal in the summer of 2017. "I'm hoping for this chance, if God wills, to be a starter and become a senior national team player." 
His strange journey this summer - from being on the squad, to being off it, to being back on, to scoring in the Gold Cup - has made sure the second part of that dream came true. Now Antuna has three goals with El Tri, one goal more than he has in his entire professional club career.  
He'll hope to keep adding to that number and make the most of his opportunity. If not, he'll always have the memory of getting the shot he's badly wanted for so long and getting to keep the game ball after as a souvenir.