Africa Cup of Nations
VIDEO: Gyan and Mensah play bodyguards in Ghana camp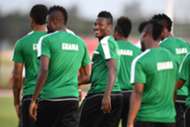 Ever wondered what goes on at Ghana's African Nations Cup camp when the team is not playing?
It surely does get a bit boring when you are a bunch of superstars sitting in hotel rooms with nothing to do for a few days. 
It turns out defender Jonathan Mensah and captain Asamoah Gyan are livening up the mood at the side's base in Franceville.
Checkout this hillarious video of the duo playing bodyguards who are stunned to see the Black Stars' top players before Christian Atsu come to their destruption.
Watch the hilarity unfold in the video below: