Manchester United
'Very immature' Antony has 'disappointed' Man Utd fans – Parker
Brazilian winger signed for £85m
Has only scored five goals so far
Still adjusting to the Premier League
WHAT HAPPENED? The Brazil international forward was acquired by Premier League heavyweights in the summer of 2022 in an £85 million ($103m) transfer deal with Dutch giants Ajax. Big things were expected of Antony at Old Trafford, as a creative forward with an eye for goal, but he has found the target on just five occasions through 17 games and found himself benched for a 2-1 derby victory over Manchester City last time out.
WHAT THEY SAID: Parker has told Soccernews of the 22-year-old's struggles to make the desired impact in English football: "Antony has done okay for Man United. He hasn't been amazing but he is also young and needs to adapt to the Premier League. But honestly, I think that the vast majority of the fans have been disappointed by him. They expected a different kind of player. They expected him to be very quick and run past defenders but he hasn't really done that. I personally think that he is thinking too slow and he seems very immature on the pitch. He needs to beat people more and believe in himself because he has the abilities to be a very good winger for Man United."
THE BIGGER PICTURE: Antony registered 24 goals and 22 assists through 82 games at Ajax, bringing him to the attention of leading clubs across Europe, but he has made as many headlines for showboating in the 2022-23 campaign as he has eye-catching performances for United.
IN THREE PHOTOS: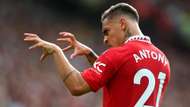 WHAT NEXT? Marcus Rashford has been leading the attacking charge for United over recent weeks, scoring in every game since the World Cup break and in nine consecutive fixtures at Old Trafford, and it is his exploits – rather than those of Antony – that have helped to fire Erik ten Hag's side into the Premier League title race.