Premier League
Tottenham struggling? Behave! Four Premier League trends that explain the season so far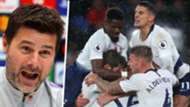 You can't divide 38 by three (well you can, it's 12.666667) but we're about as near as you can get to being one third through the 2018-19 Premier League season, so it's time to look at just what is going on.
From Tottenham's 'struggles' that have seen them record their fourth best-ever points tally to the decline of long-range shooting and everyone in England's top-flight becoming a little more Man City.
With 12 games gone here's four trends that help explain the season so far...
---
'Struggling' Tottenham? Not quite...
---
Amid rumours of struggle, Tottenham have ghosted their way to 27 points and fourth place. That seems barely more than reasonable given the teams above them, but it's actually the club's fourth best-ever points total at this stage of a season (based on three points for a win).
The sheer gobbling of points at the top end of the Premier League is shown by the fact that this is the first time in English top-flight history that four teams have 27+ points after 12 games (based, again, on seasons where three points have been awarded for a win).
Previously there had only been three seasons to see as many as three teams do this, with all of those coming in the 21st century. The stretch is real, and it's getting... stretchier!
---
Burnley's day of reckoning is here
---
Burnley's seventh-placed finish last season was celebrated as a victory for common sense and hard work but there were elements that didn't add up, and the reckoning is here.
No team, not even Fulham, have allowed the opposition more shots on target than Burnley this season, and they've already conceded four or more goals in four games, more than their previous three Premier League campaigns combined.
Last season they conceded around 13 goals fewer than you'd expect based on xG; that advantage has, for whatever reason, vanished in 2018-19 and the Clarets face a long, hard winter.
| Season | xG against | Goals conceded | Shots faced/game | xG vs Goals Against |
| --- | --- | --- | --- | --- |
| 2016-17 | 54.36 | 55 | 17.7 | -0.6 |
| 2017-18 | 52.35 | 39 | 15.0 | 13.35 |
| 2018-19 | 23.86 | 25 | 21.0 | -1.14 |
---
Time to stop the 'shoooooot' shouts
---
The greatest trick ever pulled in the Goal of the Month competition was to make people think belting one in from distance was a sustainable approach. Sure, it looks good when they go in but in the last 10 years, only three per cent of shots from outside the box have resulted in goals.
Shouting 'shoooot' might make you feel better but I'm sorry to announce that you're hampering your team.
Thankfully, coaches and players are increasingly clued up and the proportion of shots coming from long range in the Premier League is steadily declining. A decade ago almost half of shots came from outside the 18-yard-box but that is down to 38.5% this season and looks set to fall further as people realise shooting from range is, well, strange.
| Season | % shots outside the box |
| --- | --- |
| 2006-07 | 46.2% |
| 2007-08 | 46% |
| 2008-09 | 46.1% |
|   |   |
| 2016-17 | 40.8% |
| 2017-18 | 39.7% |
| 2018-19 | 38.5% |
---
Everyone's turned into Man City... sort of
---
One direct result of teams shooting from closer to goal is that they are passing more.
The most recent Premier League goal was Manchester City's 44-pass monster to make it 3-1 against Manchester United last Sunday and it was indicative of an accelerating trend in the division.
A) Charles Reep 1962
B) Pep Guardiola 2018 pic.twitter.com/6Lih6WQuWc

— Duncan Alexander (@oilysailor) November 12, 2018
The average number of passes in the build-up to a goal this season is 3.44, the highest figure ever recorded by Opta, roughly a 50% increase on the average in the mid-2000s.
A country whose approach to football was hampered by misguided technocrats in the post-war years finally seems to embracing a more considered approach.