Australia
The Covert Agent: Graham Arnold has escape clause in his Sydney FC contract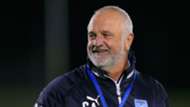 Graham Arnold has a clause to sever his contract with Sydney FC, but the FFA and Sky Blues could end up in court if the master coach is poached for the Socceroos job.
The Covert Agent can reveal Arnold can get out of his contract with the A-League's premier club, which expires at the end of the 2019 season - as long as he gives three months notice to the Sydney FC hierarchy.
It's understood the Sky Blues will consider pursuing legal action against the FFA if Arnold decides to take the coveted national team role and take the green and gold to next year's World Cup in Russia.
According to Fox Sports, the 54-year-old has been offered the Australia position with an ultimatum he accepts immediately, but he has yet to make a decision.
However, Arnold rejected claims he had been sounded out by the FFA, but admitted to being "flattered" by the link.
"There's nothing been offered, so I don't even think about it," Arnold said at Sydney FC training on Wednesday.
"We can ask questions of hypothetical things - what if this happens, that happens.
"But I'm contracted to Sydney FC, I love this club, I love those players, I treat those players like they're my kids.
"I wouldn't sit here and say something that's not real out of respect for those boys."
The FFA have said they want to appoint a replacement for Ange Postecoglou by February - around one month before the Socceroos next play in the March international window.
It gives the new manager four months to work with the squad before they head to the World Cup to square off against group C opponents France, Peru and Denmark.
Arnold has managed Australia before, taking over in 2006 following Guus Hiddink's departure, but only won five of the 14 games before eventually being replaced by Pim Verbeek.