Serie A
Serie A teams lead the way in the Champions League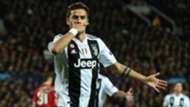 After years of misery and underperforming in the Champions League, Serie A clubs have improved massively.
It has been more than a decade since the infamous Calciopoli scandal derailed the game in Italy but things are looking much better now for Serie A.
This season in the Champions League has seen Italian teams take the most points per game of any nation with two or more teams. Serie A has four clubs in the current campaign after a UEFA rule change which sees the top four nations get four teams automatically into the group stage.
At this stage of the competition, Italian teams have performed better than any nation with two or more teams, taking 2.17 points per game. In this round of Champions League fixtures, Roma and Juventus recorded wins while Napoli drew in Paris. Inter however lost to Barcelona.
Juve have won all three of their matches so far, while the Giallorossi and the Nerazzurri both have two wins from three. Bundesliga and La Liga sides are both currently averaging 1.92 points per game, followed by Portugal on 1.67.
Although Liverpool and Manchester City won in this match day, the Premier League clubs are currently on 1.42 points.
It truly is a remarkable turnaround for Italian clubs especially when considering their performances in past editions haven't been great. Adding to the positivity is how the Bianconeri truly have a good chance of winning the trophy. Should they go on to win the trophy it will end a nine year wait since the Champions League trophy came to the Italian Peninsula.