Transfers
'Ronaldo to Juventus would be great' - Can keen for Real Madrid star to move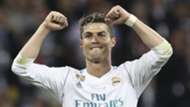 Cristiano Ronaldo would be welcome at Juventus and Emre Can would relish the chance to play alongside the Real Madrid star.
Goal understands that the Portugal international has agreed a deal to move to the Serie A giants, with Ronaldo set to sign a four-year contract worth €30 million (£26.5m/$35m) per season.
Juventus still have to negotiate a fee with Madrid and are expected to have to pay upwards of €100m (£88m/$117m), but could go as high as €120m (£106m/$140.5m).
And Can, who moved to Turin on a free transfer from Liverpool earlier this summer, is keen to link up with the 33-year-old.
"Cristiano Ronaldo? Any player would like to play next to him, it would be great," he said at a press conference.
Can also believes that it was his destiny to play for Juventus, with his first coach tipping him to move to the Serie A giants.
"My first manager was Italian, when I was very young he told me one day I'd play for Juventus, and now I'm fortunately here," he added.
"The mentality at Juventus is that we just want to win titles. That's my mentality too. I came here to win titles."
So keen is Can to taste success in Italy, he maintains he is willing to play anywhere.
"I feel at home in the midfield," he said.
"Of course, in the end, the manager decides and I just want to help the team and always give my best. Whether it's defender, striker, goalkeeper or midfield."
And he also says he snubbed other offers to move to Juve from Liverpool.
"Offers? Yes, that's true, I had many offers from very good teams but I chose Juventus for the project, this is a very big team and I'm happy to be a part of it," he added.
"All the players have welcomed me in a nice way, I feel good vibes. Zinedine Zidane was my idol when I was child, and he's someone who played here as well."