Manchester United
Pogba inspires Man Utd comeback for the ages to restore derby pride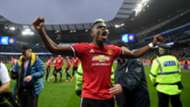 How on earth did that happen?
At half-time it was all set to be the most pitiful surrender an English title race had ever seen. Manchester City were toying with Manchester United, and United were just taking it. The seemingly inevitable coronation was just 45 minutes away.
As soon as Vincent Kompany shrugged off Chris Smalling and buried a header beyond David de Gea there was simply no question how this evening was going to turn out. United's response was pitiful, and Ilkay Gundogan's magical second was the very least they deserved.
Raheem Sterling had two glorious chances to put the game beyond doubt but still there seemed no chance that United would deliver the kind of stirring comeback which could allay their supporters' fears of being reminded on a daily basis for decades to come of the afternoon City crushed United to clinch the title with six games to spare.
Yet somehow, it happened!
United incredibly went from the ridiculous to the sublime to claim a 3-2 win. Having spent the majority of the first half ambling around like a bunch of clueless schoolkids, they took to the second like an attacking force with a point to prove.
From standing by and watching City turn it on, they started to move the ball and press with belief. They played with purpose and force, and just as the Blues had crumbled under such pressure at Liverpool on Wednesday they were equally as incapable of responding here.
Alexis Sanchez and Ander Herrera combined to send in Paul Pogba for the goal which started the comeback, with the Frenchman escaping the forlorn effort of Kompany as he bore down on goal. Within 97 seconds, Pogba had levelled the scores, heading home from Sanchez's cross, and the Etihad's party atmosphere had disappeared in an instant.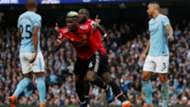 It was a particularly timely double from Pogba given all the talk in the previous 24 hours about his agent's apparent attempt to persuade Pep Guardiola to take him to City in January. What's more, following a distinctly anonymous first-half performance, Pogba was the catalyst to everything that was excellent about United after the break.
As if everybody present hadn't been dumbfounded enough by the Frenchman's brace, United went on and won it thanks to Smalling – of all people – volleying home Sanchez's left-wing free-kick. The away end which had carried a forlorn air for much of the game was suddenly sent into delirium.
After that it was spiky and it was nervy, and there was still time for the inevitable David de Gea super-save, but the storybook City season has a slightly sourer ending and nobody will remind them more of the narrative that could have been than the fans across the city.
This was what United can do when they play with belief and take the initiative. In a season of few highlights, the Red Devils have their most memorable moment. And the fact that it comes at the expense of the one team they have been constantly compared unfavourably to will be lost on nobody.
City will still win the league by a country mile, but today was a day for the ages in Manchester United's derby history rather than that of their noisy neighbours.