UEFA Champions League
'It's an honour to play against Cristiano Ronaldo' - Alexander-Arnold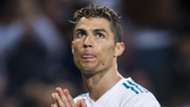 Liverpool youngster Trent Alexander-Arnold says it will be 'an honour' to come up against "one of the best players ever" in Cristiano Ronaldo if he starts in the Champions League final.
The 19-year-old has enjoyed a breakthrough season to remember at Anfield, netting his first goal in his European debut for the Reds - a fine free-kick against Hoffenheim.
And while he learned on his feet to put in assured performances since that Champions League qualifier, the starlet can now look forward to the prospect of facing Real Madrid in the final – and with that the responsibility of marshalling Ronaldo.
Alexander-Arnold admits that it will be a huge test, but believes that the only way to improve is to try your hand against the game's best players.
"With Ronaldo being one of the greats, probably one of the best players ever, it's going to be an honour to hopefully play against him," he said, as quoted by Sky Sports.
"You know a lot about him and the likes of [Lionel] Messi because you watch them on YouTube when you're growing up, you always watch those type of players.
"I want to challenge myself and test myself against the best players in the world and there are not many people better than the likes of Ronaldo. It will be a huge test for everyone and hopefully we come out on top."
As a life-long Liverpool supporter, Alexander-Arnold joked that he "wasn't a fan of Ronaldo's when he was playing for Manchester United", but knows that he must give the Portugal captain the respect he deserves when it comes to the final on May 26.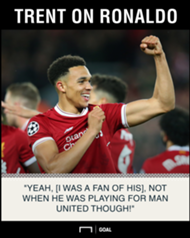 "You have to admit he's an unbelievable player and he's done exceptional things in the game. 
"The numbers that he does season in, season out are absolutely unbelievable, but come May 26 we'll be looking to stop him and the rest of Real Madrid.
"You've just got to focus on the game and if he's a direct opponent you have to see what the strengths and weaknesses are and use them to your advantage."