Ex-banker, Trump supporter and now Singapore's top professional FIFA gamer, meet E-sports star Wen Jun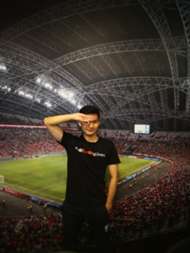 In the second part of this three part special, Goal Singapore sits down with Singapore's E-sports star Wen Jun as he reveals to us the origin of his famous entrance walk-in and gives FIFA gamers out there some tips and tricks.
Your entrance walk-in is sort of seen as your trademark move. How did that come about?
I grew up as a huge fan of WWE (World Wrestling Entertainment) and Vince McMahon was the first one to do that walk. Following Vince, Connor McGregor came around and did it too.
So what I decided to do was combine the styles of the two aforementioned people and add a little Singaporean flavour; which was that 80s 'Ah beng' gangster walk. In the end what people see now is the final product.
What are some of the tips and tricks you can impart on budding gamers?
Well, for me it is about being dynamic. FIFA professionals tend to study gameplay too much. You have to be unorthodox and not follow the conventional FIFA school of thought which most professionals tend to do.
In the latest tournament I attended most of them were surprised by my style of play as most of the moves I produced in the game have never been seen before. Ultimately you need to have that element of unpredictability instead of doing what others normally do.
For more information please sign up with my academy, pay a fee and I will be happy to guide any gamers out there.
What are some of your pre-match rituals?
Recently I have been doing this thing where I take a water bottle and I make sure there's a small amount of water left, which I will then pour over my head.
For me it is a way of hyping myself up but the collateral damage is that is gets under the skin of my opponents. Psychologically it has a negative impact on them. Moreover the fans get hyped up too and it works to my advantage because I feed off energy.
All of this works even more when I am counter-attacking in the game as I love to counter-attack. Once I make a through ball the fans get on their feet and I know this is my time.
How important is it as a professional gamer to have a win-at-all-cost mentality?
This quality is the most important thing but at the end of the day you need to have to win. You need to have to show your sponsors that you want and can win.
You need to always be top three in the country and keep proving to people, sponsors and the media that you are always at a high level. In a nutshell winning is all that matters.
 Going back to when you first started, how did you juggle between banking and gaming?
I could not afford to have a girlfriend. For me I didn't want any distractions and again its about making sacrifices. The last time I went out to a nightclub was almost two years ago now.
I figured if I really want to push on and become world champion, I need to stop getting drunk and wasting two days after that. To the younger players out there I always advise them that they need to make sacrifices, there is no way two ways around it.
While the press may feel that giving up banking was my biggest sacrifice, in actuality it was giving up my time with my friends.
Is there a music playlist you have on when playing a game?
I would say gym music, HYPEBEAST or those EDM (Electronic dance music) playlist. This is because my style is very high-octane as I want to force you into mistakes and high-press you off the park.
For me sometimes such style has affected my performance but I always try and time my skill move with the beat drop. More importantly it keeps my energy high and allows me to have a quick tempo.
What I don't get is how certain players listen to orchestra music or piano ballads but maybe that is fine if you want to play in a tiki-taka kind of manner.
Which is your favourite team in FIFA?
If I had to say one team for next season it would be Juventus. They have got really good dribblers in the form of Douglas Costa, Cristiano Ronaldo, Paulo Dybala and Juan Cuadrado.
These are the kind of players I want to control as they can produce those tricks and flicks. On the other hand my back-line has to be fast and strong.
My ideal back four would be Kyle Walker at right-back and Marcelo on the left. In the middle would be Sergio Ramos and Paolo Maldini.
When I am defending I don't just control one player but I every second I am selecting two or three players and closing down space. It's very micro-managing in terms of how I want my back-line to be and puts a lot of pressure on my opponents.
What are your thoughts on the gameplay of FIFA 18?
Honestly I felt that FIFA 18 was a horrible game because it was very casual gamer-friendly. Many professionals have flamed EA (Electronic Arts) this season.
Apparently, next season will see improvements so we will see stuff like high-pressing being more effective and probably the AI (Active Intelligence) won't be that big of a factor when you defend.
Which is your favourite FIFA edition?
I would say FIFA 12 because it allows me to play like (Pep) Guardiola as I am a football purist. At that particular time with FIFA 12, I was in the top 16 professional gamers bracket at the World Cyber Games.
I definitely should have done better at the world championships but that year I put a tremendous amount of pressure on myself and got quite unlucky in my round of 16 match, which I lost.
In the next part of this series, Wen Jun reveals his support for Donald Trump, addresses his arrogance and gives advice to budding gamers on how to handle criticism.
You can also catch the first part of this series here.