Premier League
Louis Saha: Cristiano Ronaldo less of a team player than Wayne Rooney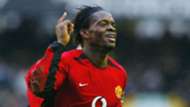 ---

BY MANASI PATHAK   

 Follow Manasi Pathak on Twitter 
---
Manchester United legend Louis Saha was present in Mumbai for a fan-gathering event in the financial capital of the country. Speaking to Goal exclusively, the 39-year-old Frenchman discussed his days at Old Trafford, opined on the current midfielders at the club, predicted the outcome of the season and mentioned the need for improvement in France's national side.
Excerpts: 
Q: When arriving at Manchester United from Fulham, how different did you find it playing at such a huge club even though you'd played Premier League football before?
LS: Things happen naturally when you are in a state of mind to compete and be the best. You don't think twice to join Manchester United. You may have offers elsewhere but it's a lifetime opportunity (to join Manchester United) which you take in without thinking twice. I didn't question myself either, I knew I wanted to come right away. From Fulham or from anywhere, I would have jumped on a train! For me, in 2004, I was ready for the challenge and wanted to play with players like Scholesy (Paul Scholes) and Keano (Roy Keane)- big legends like them.
Q: Who was your favourite strike partner?
LS: I enjoyed playing with all of them but Wayne Rooney was the easiest player to pair with. He read your game so well that he would adapt - if you come short, he would go behind the defender; he would come wide for defending duties; he would do anything possible for you and make you more confident. He was easier to play with because you too could read his game.
When you play with Cristiano Ronaldo, he has all the confidence in the world but he is very hard to read. Sometimes, he would take the ball and dribble when you'd come short or he would dribble past all the defenders and make wrong choices sometimes because he was very, very focused on his own game.
He was a bit less of a team player than Wayne Rooney, for example. But he was the most talented, so you're happy to play. With players like Van Nistelrooy, Carlos Tevez, Ole Gunnar Solskjaer- you can really learn a lot from them.

Q: Manchester United have a lot of options in attack, just as they did in your days. How did Sir Alex keep all of you happy?
LS: It was a matter of seeing (how to manage) different competitions and at the same time looking at the different stages in the season. Premier League is a marathon and not a sprint. Also, there are cup games and the Champions League- all the competitions where we want to win.
So, this is how he made sure how all players got their part. Also, this was worthy because a competition inside the club is very good. He managed us in a way that we all had our part. It's about finding the right balance in different games and situations, I believe.
Q: Is Jose Mourinho's biggest job keeping all these different talented forwards happy?
LS: Yes, definitely. The players are so good that they can understand the competition isn't about one player being good and the other being average-they're all good. The competition is about sometimes which player would play or who would play wide or as a striker- because eventually, it is all about winning trophies together. This is something they need to understand and if they don't, then the player isn't going to play.
This is the Premier League and this is the biggest club so you have no choice but to adapt to things. Most of the players are looking for these situations so they can work harder to improve. If they're always in the comfort zone, it isn't good for them. They need to be challenged.
Q: Manchester United fans are known to demand an attacking brand of football. Do you think Jose Mourinho is doing justice to the fans?
LS: It takes time and dedication to find the right balance in order to make sure that we don't concede and still be able to create opportunities. The result is also important to Manchester United fans. The tradition is always going to be attacking (brand of football) but (Jose) Mourinho isn't of the same tradition and we need to understand and respect that.
We have to give him the credit for the two trophies won last year. We have two amazing players in (Jesse) Lingard and (Marcus) Rashford from the academy. Mourinho will keep us improving and maybe with Alexis Sanchez coming, it could get better. We can't ask for everything in a year.
Q: What is your prediction for the Premier League season and the Champions League campaign?
LS: I really feel (Manchester) United has a good draw in the Champions League so they can go definitely to the last four. We may be short at the moment but I feel confident of this side to go all the way. In the Premier League, we are behind right now and Manchester City need to drop points and we need to make sure we don't lose any. That's going to be a challenge but I believe we are definitely going to be at the number two or number three position to get in the Champions League and get the consistency back as being the biggest club.
 
Q: France had a good campaign at the 2016 Euros despite bowing down to Portugal in the finale. In order to compete for the winning trophy, in what departments do they need improvement, going into the World Cup?
LS: I think they need improvement in the defence- where they have to be sure of their tactics, their way of coming forward. Up-front there is (Anthony) Martial, (Antoine) Griezmann- they are amazing players. Going forward is fine but they need to find the right balance defensively, making sure of the confidence on the ball.