Transfers
Agent: Kwadwo Asamoah wants to join Galatasaray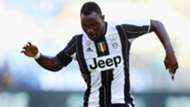 The agent of Juventus midfielder Kwadwo Asamoah has confirmed that Asamoah wants to join Galatasaray, but Juventus can't find his replacement.
The midfielder has long been linked with a move away from Turin with coach Max Allegri also -last week- confirming that the Ghanaian could leave.
Recent reports have alleged that the clubs and player agreed basic terms but  Bianconeri will not sell him until they had brought in his replacement, believed to be Italy international Leonardo Spinazzola.
This was further confirmed by Asamoah's agent, Federico Pastorello who said:
"He [Asamoah] wants to join Galatasaray, but Juve can't find a replacement," Pastorello told SportItalia.
"With the Spinazzola situation stuck, it's unlikely they'll let him go."
Spinzzola moved to Atalanta from Juve on a two-year loan deal last summer and his impressive performance have seen Juve enquire about the possibility of bringing him back to Turin a year early, which was rejected by the Bergamo side.