Barcelona
One goal in two years - Suarez's shocking Champions League block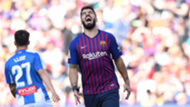 Luis Suarez has a lot of history at Old Trafford.
From the infamous handshake snub with Patrice Evra to a loss on his return from a 10-match ban for biting Branislav Ivanovic – 'The Theatre of Dreams' has been the scene of some of the most infamous moments in the striker's career.
Consequently, when Suarez returns on Wednesday evening with Barcelona, Manchester United fans will be sure to give him a frosty reception and remind him what he left behind when he departed Liverpool five years ago.
The Uruguay international regularly spoke out about the way he was portrayed and treated in England, and even told beIN Sports that he "left because [he] was tired of [the British press]."
But as the stats behind his horrid Champions League form continue to weigh him down, perhaps the volatile atmosphere he will be subjected to is exactly what he needs to reinvigorate himself in the competition.
Domestically, Suarez's form is no problem – unless you're an opposing defender.
Only Lionel Messi has scored more Liga goals this season than the 32-year-old, who has netted five times against Real Madrid alone and goes into Wednesday's game fresh off the back of breaking the deadlock late on in the weekend's crucial clash with Atletico.
He looks like every bit of the player that Barcelona signed, the perfect partner to support Messi – even in the Champions League, where he bagged seven and eight goals respectively in his first two seasons in Catalunya.
What, then, has happened that means Suarez will step onto the pitch on Wednesday without an away goal in Europe's elite competition for over 25 hours of game time?
It's an anomaly in an astonishing career. His scoring records in all competitions in all countries are superb – including an impressive return of four goals in nine Champions League outings for Ajax in 2010-11.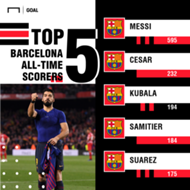 But as impressive as his scoring has always been, one thing has been even more impressive – his injury record.
"[Suarez] didn't miss a single game due to injury during three and a half seasons at Liverpool," Zaf Iqbal, the Reds' former doctor, revealed on Twitter.
But his unblemished record has taken a hit at Camp Nou, particularly in the last two seasons, when he has struggled with persistent knee problems – issues that Sport revealed have particularly concerned Barcelona.
Yet, the former Liverpool man has been granted very few rests by the club this season, with Kevin-Prince Boateng the only available cover for his position.
Moreover, Suarez has taken on a bigger role since Neymar's departure. The Uruguayan is now almost as important as Messi when it comes to team selection, especially given the fluctuating form of Philippe Coutinho and Ousmane Dembele.
As a result, he has been benched on just four occasions this season. On two of those – against Leganes, when Munir El-Haddadi filled in up front, and against Sevilla, when Boateng took his place – Barcelona have been defeated.
"Suarez guarantees us chances in every game; it's difficult to let go of him," Ernesto Valverde admitted earlier this season.
"We are talking about the fifth-highest scorer in the club's history. We just need to be patient and persevere, which is what he is doing, and the players and I are very patient with him because he's a great player."
Suarez is not just a goal-scorer. While he may not have netted in the Champions League this year, he's bagged three assists in six games, creating chances at a rate of more than three per game.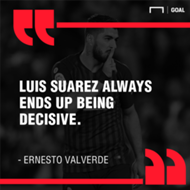 "Tomorrow people will reel off the statistic about him not having scored but that does not take into account the way he played," Valverde said after Barcelona's win over Lyon.
"He doesn't take the penalty that he wins and he passes to Coutinho for the goal. His contribution is always huge."
His contribution is certainly appreciated by Messi, for whom Suarez has provided five of his six assists in La Liga.
"We aren't only footballers. We're also parents, we have similar habits and are almost the same age," the Uruguayan said about his Argentine team-mate.
"We enjoy having fun, drinking, eating together. It's a wonderful relationship and over time we've gained each other's trust."
His relationship with Barca's star man makes him key for Wednesday's first leg in Manchester, regardless of whether he breaks his 1302-day goal drought away from home in the Champions League.
In reality, that statistic doesn't matter. Barcelona are a team, not a collection of individuals, and as long as the results come in, it doesn't matter who scores.
At the moment, they are on track to retain their Liga and Copa del Rey titles, and have an incredible shot at lifting their first Champions League trophy since 2015.
Whether Suarez starts scoring again in Europe won't affect his standing at Camp Nou.
"He always ends up being decisive," said Valverde after the forward's crucial strike against Atletico on Saturday.
Mark his words. With or without a Suarez goal, if Barcelona take a positive result into the second leg against United, their No.9 will have had plenty to do with it.