Malaysia Cup
Kedah players apologetic to fans after cup final loss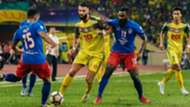 Kedah, the 2016 Malaysia Cup champions were forced to hand over the trophy to Johor Darul Ta'zim (JDT) after the latter won 2-0 in the 2017 final played at Shah Alam Stadium on Saturday night. Kedah struggled to impose themselves in the match and had to be content with the runners-up medal after goals from Aidil Zafuan and Gonzalo Cabrera condemned them to a second Malaysia Cup final defeat in three years.
Here are all the reactions from the Kedah side after the disappointing defeat. 
Nidzam Adha
Before the game, we knew that JDT were dangerous from set piece and counter attacks but we still conceded in that manner. That goal caused us to lose our focus. That said, I'm still proud of the efforts of the team. After going down 2-0 we needed fresh legs and attack from the flanks with pace but luck was not on our side. We could not create enough chances but we reached a high level and gave them a fight. But when you get your chance you need to make use of it.
Ifwat Akmal
It's disappointing not to be able to keep the trophy in Kedah. What we'll need to do is improve next season. We were not concentrated enough at the start and couldn't put away our chances in the second half. The first goal was important and it took a lot out of us. We are sorry to the fans who turned up today. 
Liridon Krasniqi
I apologise to the fans for the defeat. We tried but luck isn't with us this season. JDT were aggresive and that made it difficult for me to make my moves in the middle of the pitch. We were forced to play long balls and they easily covered those moves. Based on the performance, JDT were deserved winners but we will come back and do better next season. 
Ken Ilso
JDT was the better team today. They have more structure than us, that's why they won. In games like this you always need a little bit of luck but it wasn't with us today. If we could have brought it back to 2-1, it could have been another game because we were putting pressure on JDT at that time.  It was very emotional. I said goodbyes some of the staffs. Of course it's sad to say goodbye in this way but I've had amazing memories here.