Manchester United
'Sir Alex would never do it' - Sheringham tells Mourinho to go easy on Man Utd youngsters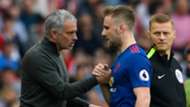 Jose Mourinho's motivational methods for young players such as Luke Shaw and Anthony Martial have been called into question by former Manchester United striker Teddy Sheringham.
The Red Devils boss has been publicly critical of both Shaw and Martial this season, demanding more from the duo as well as other players within his squad.
However, such an approach diverges from that of other "top managers" according to Sheringham, who says that legendary Man United manager Alex Ferguson would not use the same tactics.
"I played for a lot of top managers and I never really got castigated by the top managers in the press," Sheringham told talkSPORT.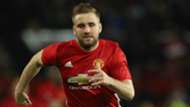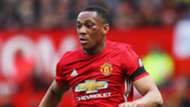 "Sir Alex Ferguson would never have done it, Terry Venables would definitely never have done it and they were top managers, for me.
"They would tell you how wrong you'd been in the changing room, or in their office, or fine you a week's wages, but they would always back you to the press and keep it within [the club].
"And I had a lot of respect for my managers."
Sheringham, who won three Premier League titles and the Champions League during his four-year stint at Old Trafford, believes that Mourinho should aim to protect his younger players, instead of "heaping the pressure on" them.
Toure taunts Man Utd after derby draw
"At the end of the day they're all young lads. They're all growing up and learning, not just about football, but about life as well," continued the 51-year-old.
"And you're earning a lot of money, even in my day. Nowadays you're earning astronomical money and you're going to go off the rails at some stage.
"It's for the manager to bring you down a peg or two and make you realise how lucky you are to be a professional footballer and to enjoy it, not to throw it all away.
"Not to heap the pressure on by telling everyone else what you've done wrong - I don't really agree with that, but maybe he'll tell you that there's a different method to his madness."