Cristiano Ronaldo
Where to watch Cristiano Ronaldo's matches for Al-Nassr: Live stream, TV & highlights details for CR7's games in Saudi Arabia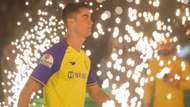 Cristiano Ronaldo has left Europe, claiming his work on the continent is done, and now finds himself playing for Al-Nassr in the Saudi Pro League, where he has declared his intention to deliver plenty of success for the Riyadh-based club.
The five-time Ballon d'Or winner spurned offers from Major League Soccer as well as a host of clubs from countries such as Brazil, Australia and his native Portugal in order to embark on a new journey in Asia
If you are wondering where to watch Cristiano Ronaldo in action for his new club, GOAL has everything you need to know.
Where to stream Cristiano Ronaldo Al-Nassr games live & watch on TV
This page contains affiliate links. When you subscribe through the links provided, we may earn a commission.
| Country | TV channel & stream |
| --- | --- |
| United States | ESPN |
| United Kingdom | Sky Sports |
| Italy | SportItalia |
| Portugal | Sport TV |
| France | L'Equipe |
| Middle East | SSC |
| International | Shahid |
Al-Nassr have indicated that a number of international broadcasters will be providing coverage of their games following Ronaldo's transfer to the club.
In the US, ESPN will show the occasional game and in the UK, Sky Sports has been streaming games live on its official YouTube channel. Find out more about ESPN+ here and Sky Sports here.
Saudi Sports Company (SSC) has the broadcast rights for Saudi Pro League games, as well as Saudi Super Cup and King's Cup games, in the Middle East.
Games are available to stream worldwide through Shahid and new users can sign up at the official site. A subscription to the VIP Sports package will cost £10.99 a month in the UK, or $18 a month if you are in the U.S.
Highlights of Al-Nassr games will be available on the club's official YouTube channel and also on SSC's various platforms.
Al-Nassr fixture schedule
To help you stay up to date with Al-Nassr and Ronaldo's fortunes, here are the remaining 2022-23 fixtures after the five-time Ballon d'Or winner's arrival.
Note: Dates and times are subject to change.
Date
Game
Competition
Kick-off time
Apr 4, 2023
Al-Adalah vs Al-Nassr
Saudi Pro League
8pm BST / 3pm EDT
Apr 9, 2023
Al-Fayha vs Al-Nassr
Saudi Pro League
8pm BST / 3pm EDT
Apr 18, 2023
A

l-Hilal vs Al-Nassr

S

audi Pro League

8

pm BST / 3pm EDT

Apr 23, 2023
Al-Nassr vs Al-Wehda
King's Cup
TBD
Apr 27, 2023
Al-Nassr vs Al-Raed
Saudi Pro League
6

pm BST / 1pm EDT

May 9, 2023
Al-Nassr vs Al-Khaleej
Saudi Pro League
TBD
May 15, 2023
Al-Tai vs Al-Nassr
Saudi Pro League
TBD
May 20, 2023
Al-Nassr vs Al-Shabab
Saudi Pro League
TBD
May 26, 2023
Al-Ettifaq vs Al-Nassr
Saudi Pro League
TBD
May 31, 2023
Al-Nassr vs Al-Fateh
Saudi Pro League
TBD
When did Cristiano Ronaldo make his Al-Nassr debut?
Unsurprisingly, Ronaldo was eager to get going as soon as he touched down in Riyadh, suggesting at his unveiling press conference that head coach Rudi Garcia could throw him straight into the team for the very next game.
However, he had to wait for his debut for Al-Nassr, with a two-match ban incurred during his time at Manchester United following him to Saudi Arabia. That sanction, arising from an incident where he was found to have smashed the phone of an Everton fan, ensured he was unavailable for games on January 6 and January 14.
He sat out the game against Al-Tai at a rain-soaked Mrsool Park and also missed the next game against Al-Shabab, so his Al-Nassr debut finally came on January 22, against Al-Ettifaq.
Ronaldo made his Saudi debut for the Riyadh All-Star team in a friendly against Lionel Messi and Paris Saint-Germain on January 19. Ronaldo was captain ofthe team , which was made up of Al-Nassr and Al-Hilal players.
He scored two goals and looked impressive in the 60-minute display, appearing to enjoy the chance to face off against his perennial rival once more.
How long is Cristiano Ronaldo's contract with Al-Nassr?
Ronaldo has agreed a deal with Al-Nassr that will see him remain at the club until 2025.
That means he will be available to help the club in the AFC Champions League next season, should they qualify.
Read more about the Cristiano Ronaldo transfer to Al-Nassr