Juventus
Ugly, Ronaldo-reliant but winners - are Juventus the new Real Madrid?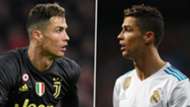 In hailing his Juventus team-mates for a "solid" performance in Wednesday's 1-1 draw with Ajax, goalkeeper Wojciech Szczesny made a rather revealing admission.
"Ajax are a very different team to us," he explained. "They are more attacking and aggressive."
Anyone who has watched Juventus this season would find it impossible to disagree. Massimiliano Allegri's men have once again dominated Serie A but have not illuminated it.
They have won 27 of their 32 league games but thrilled in few. There are many better teams to watch in Italy, such as Atalanta, or Napoli and, as the Partenopei's Amin Younes told Goal last week, "Juventus' football is not beautiful but it is effective."
And that is primarily down to Ronaldo, with the draw in Amsterdam an obvious case in point.
Juve performed poorly in Netherlands. They struggled to keep a hold of the ball – they had just 39 per cent possession – and mustered just one shot on target.
Yet they claimed a draw, almost inevitably thanks to Ronaldo.
Indeed, the Portuguese is the only reason the Bianconeri are still in the tournament, with Ronaldo having hit a hat-trick in the second leg of the 3-2 aggregate win over Atletico Madrid in the last 16.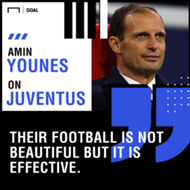 On that occasion, Juve's game plan was simple but effective: provide crosses for Ronaldo.
It worked a treat, too, with the No.7 netting two headers in a stirring comeback in Turin. He bagged another in Amsterdam.
Of even greater significance than Ronaldo's remarkable aerial threat, though, is the fact that no other player has scored for the Old Lady in the knockout stage.
Given this Ronaldo-reliance, coupled with a propensity for extracting positive results from poor performances, it's hard not to wonder if Juventus are the new Real Madrid.
After all, Ronaldo continually made up for Real's regular disappointments in La Liga by firing them to Champions League glory.
Of course, he was blessed with a fine supporting cast – Sergio Ramos, Raphael Varane, Luka Modric and Toni Kroos are all world-class performers – but goals win games and that made Ronaldo the star of the show.
He scored a staggering 50 times for Madrid in the knockout stage alone. It's no coincidence then, that Ronaldo-less Real are already out of this season's competition, while new club Juve are on course for the semis.
Whether Ronaldo retains the Champions League is open to debate, though.
Arrigo Sacchi is among those who believe that Bianconeri boss Allegri is too conservative, too pragmatic, to triumph in Europe.
Juve's dreadfully subdued second-half showing at Atletico – which Allegri admitted himself was "ugly" – provided the most compelling evidence to date that Sacchi may have been right.
In that instance, Ronaldo ultimately rode to the rescue – as he did time and time again for Real; this season's second-leg hat-trick wasn't even a first for the forward, who hit a Bernabeu treble against Wolfsburg back in the quarters in 2016.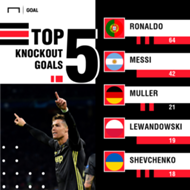 However, as we've seen in both Italy and Europe this season, this is not a Juve team that instinctively goes for the jugular – last month's 4-1 victory over Udinese remains the only time this campaign they've scored more than three goals in a game.
The feeling is that it's not that Juve can't cut loose, but that they're not allowed to, and it is significant that the finest performance of Allegri's reign was arguably last year's 3-1 win at the Santiago Bernabeu, where they had been left with no option but to attack after a 3-0 first-leg loss.
As former Juve defender Medhi Benatia said after his January exit, "Allegri has done well in Italy and also in the Champions League. We're talking about a coach who understands football, but I don't know if he's the right one to win in Europe."
With Ronaldo, though, anything is possible. He almost guarantees goals and can, thus, be decisive in any situation, for any team.
Real weren't always the best team in Europe – hell, most years they weren't even the best team in Spain – yet they still won the Champions League four times in five years.
Certainly, they benefited from their fair share of luck, such as goalkeeping clangers from Loris Karius and Sven Ulreich, while many big calls also went their way at critical times, most notably the dismissal of then-Bayern Munich midfielder Arturo Vidal 2016 and the controversial penalty decision against Juve at the Bernabeu a year later.
But all champions require some good fortune. Barcelona would not have won the 2009 Champions League without a series of contentious calls against Chelsea in the semi-final.
Of course, the Blaugrana had a once-in-a-lifetime generation of players who shaped and defined an entire era of football under the tutelage of Pep Guardiola. Zinedine Zidane's Real Madrid did nothing of the sort.
Yet while they may not have been widely revered, they were certainly respected. Say what you will about Sergio Ramos & Co. but they were winners.
That's all serial Champions League losers Juve want to be, having endured defeat in five consecutive finals.
So, while their team's play may not be beautiful, most Juve fans are unconcerned with aesthetics.
As far as they are concerned, not winning the Champions League for 23 years is a worse look than playing ugly football.
They won't care how they do it; as long as they do it.
As Juve legend Giampiero Boniperti famously said of the club culture, "Winning isn't important; it's the only thing that counts."