Cristiano Ronaldo
Messi and Ronaldo tax cases 'not healthy' for Spanish football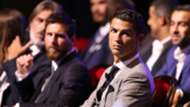 The president of La Liga, Javier Tebas, admits he "doesn't like" the tax problems which have plagued star players Cristiano Ronaldo and Lionel Messi but says his organisation is powerless to prevent these situations from arising.
Tebas says it's "not healthy" for the image of Spanish football that Messi and Ronaldo are so reliant on their agents' advice when it comes to financial matters but defended both players for their roles in the tax scandals.
"I don't like the issues that these players are having," Tebas said at the Soccerex Global Convention. "First of all, there are some issue regarding interpretations of tax norms in Spain in both cases. It's not the money they're receiving from the clubs, it's from sponsors.
"What can we, as La Liga, do in this situation?"
Ronaldo is alleged to have defrauded the Spanish Treasury of €14.7m in taxes between 2011 and 2014 by concealing income earned from his image rights. The Portugal captain is accused of diverting the money via a company in Ireland to the tax haven of the British Virgin Islands.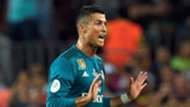 Messi was found guilty of defrauding the Spanish Treasury to the tune of €4.1m between 2007 and 2009 and had his 21-month jail sentence changed to a fine of €252,000 by the Spanish courts. His father Jorge had to pay €180,000.
The Argentine was also fined €2m with his father paying €1m. The pair in 2013 paid a "corrective" sum of €5m to cover the unpaid tax plus interest.
"I know both cases very well," said Tebas. "Cristiano Ronaldo's case, in my opinion, he's right. They're associating with him incomes that were not made in Spain. When Spanish legislation allowed him not to report those incomes.
"In the case of Messi, no-one really believes that Messi knew what he was signing. Players rely very much on their agents. That's the reality. It's not healthy for Spanish football and it hurts us."