United States
Jurgen Klinsmann: 'I was not surprised' by U.S. firing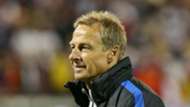 Jurgen Klinsmann has opened up for the first time since being fired as U.S. national team coach in November, saying he was not surprised by the federation's decision to go in a different direction.
U.S. Soccer parted ways with the 52-year-old after the Americans kicked off the Hexagonal stage of World Cup qualifying with a 2-1 home loss to Mexico and 4-0 defeat in Costa Rica.
"No, I was not surprised," Klinsmann told the Los Angeles Times. "I can read people. I can read statements. I can read between the lines."
He added: "The fact will remain we were let go because we lost two games."
Sporting KC signs Spanish midfielder Sanchez
The defeats came on the heels of a satisfying run to the Copa America Centenario semifinals last summer, though the U.S. did suffer through a rough 2015 — including a fourth-place finish at the Gold Cup and defeat to Mexico in a Confederations Cup playoff.
Having departed the job after more than five years in charge, Klinsmann saw the U.S. finish atop the Hexagonal in qualifying for the 2014 World Cup before guiding the Americans out of the "Group of Death" in Brazil. Ambitious talk of an American soccer revolution, however, didn't seem to materialize as the program endured notable setbacks on the youth and senior national team level.
"It was, in a way, an incomplete picture that was given," Kinsmann said. "And you will never see if anything will be complete because it's just kind of cut off. It just shows you how abrupt the business is. Incomplete may be the best word."
The former
Germany
and
Bayern Munich
manager has kept a low profile since November, but Klinsmann doesn't intend to remain idle for much longer.
"When a moment comes like that, you obviously will reflect and summarize what you did, and then you look forward," Klinsmann said. "Soccer is like any other environment. When one door closes, the other ones open up. So I will be starting to look out there and see how other opportunities come up."