Liga 1
Indonesia's Liga 1 suspended after fan murdered before match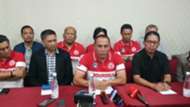 The Indonesia Football Association has suspended the country's top-flight division following the death of a supporter before a game.
Liga 1 matches have been halted until investigations into the murder of a fan before the Persib against Persija clash last Sunday have concluded.
Victim Haringga Sirla is the seventh supporter to die in match-related violence prior to games between the two sides since 2012 and PSSI chief Edy Rahmayadi says no matches will take place until a full review has taken place
"We are suspending Liga 1 indefinitely," he said. "I don't know until when. Why has this decision been made? This is to show our concern, as well as sympathy towards the victim. We need time to clear our minds. 
"Secondly, please allow PSSI and the league organiser, as well as clubs and fans, some time. We will discuss the matter thoroughly as soon as possible.
"Thirdly, in the aftermath of the incident we will formulate a clearer SOP (standard operating procedure) that will help end destructive incidents, especially when 95 fans have lost their lives since 2005."
The Sport Ministry's spokesman, Gatot S Dewa Broto, added: "We are still gathering facts and evidences, which later will be analysed by the ministry's Discipline Committee. They will see what rule has been broken.
"If this problem can be solved in a week, the football league can be resumed. We hope this problem solving won't take too long.
"In the coming days, the Discipline Committee will hold its meeting and after that there will be a decision."
Sixteen people have been arrested in connection with the death of Haringga - the 70th Indonesian football fan to die in match-related violence since 1994 - eight of which have been named as suspects.
Persib fans were conducting a "sweep" of the Gelora Bandung Lautan Api (GBLA) stadium when they discovered Haringga and a friend during their search.
A police spokesman has confirmed the 23-year-old man was then set upon by the group, who used wooden blocks and helmets, as well as their fists and feet, to inflict damage.
Clips have emerged online of the gang, which included some small children, laying siege on Haringga while police are appealing for anyone with information regarding the incident to come forward.